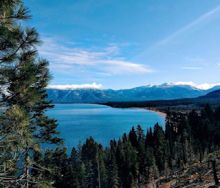 Lake Tahoe has a lot of siblings. That is to say, Lake Tahoe is surrounded by alpine lakes of all sizes and shapes and at various distances from her shoreline. The mountain lakes that sprinkle the backcountry of the Tahoe Basin are mesmerizing. Their beauty is stunning. Their ambiance awakens the heart and soul. And their waters wake you up like only mountain water can.
The alpine lakes that nourish hikers are a true blessing, making an excursion into the wilderness that much better. In admiration of these precious Lake Tahoe treasures, this week I've written about four hikes that access alpine lakes.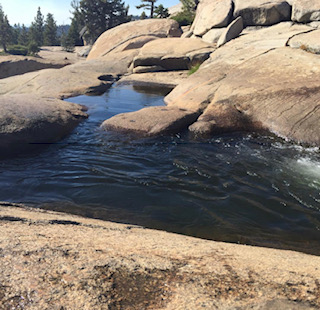 Five Lakes
One of the most popular hikes accessing a series of alpine lakes, Five Lakes is a spectacular excursion for those who enjoy a little uphill challenge to access their swimming. As the name describes, there are five lakes to enjoy after climbing almost 2,000 vertical feet. There is a lovely single-track trail that meanders between the lakes and offers various options for enjoying your own private beach. The trailhead is accessed halfway up the Alpine Meadows road on the right-hand side. This trail is not recommended for young children as it can be hot and strenuous. Please be sure to bring water and extra clothing, especially if choosing to stay for sunset.
Lake Aloha
Desolation Wilderness is one of the true treasures of Lake Tahoe. A nearly 64,000-acre expanse of protected land within a national park, Desolation Wilderness is a stunning forest enhanced by granite rock, many alpine lakes and a lush wilderness that offers amazing camping. One of the gems of Desolation Wilderness is Lake Aloha, accessed from the Echo Lakes Trailhead. Although most of this hike is flat, there are two segments that offer a worthy elevation gain. The 12-mile trip will take you on a journey that shows off five different lakes as well as some of the best wilderness camping sites you will ever see. Be certain to pick up your day or overnight wilderness permit before heading out. The area can be pretty busy in the middle of the summer, especially on the weekends, so if you can, try to enjoy Lake Aloha on weekdays. One important point of consideration: Lake Aloha is emptied come autumn.

Eagle Lake
An exceptional choice for families with little kids, Eagle Lake is considered a part of Desolation Wilderness but is only a mile into the protected forest. Located just above Emerald Bay, Eagle Lake Trail is mellow on elevation gain and big on views. The beginning is enhanced by majestic waterfalls and granite faces adorned with sport climbers, and this hike is spectacular for taking things slow. About two-thirds of a mile into the walk, you will come upon a fork in the road offering access to the alpine lakes Velma, Dicks and Fontanillis via a steep ascent. If you continue to the right you will discover a lovely sanctuary of crystal clear water. Although it may be popular on hot summer days because of its simplicity of access and stunning surroundings, Eagle Lake still gives various options for finding a private beach. Be sure to pick up your free day-use permit located at the Eagle Falls/Eagle Lake Trailhead. You may park for a small fee at the trailhead or for free by parking along Highway 8.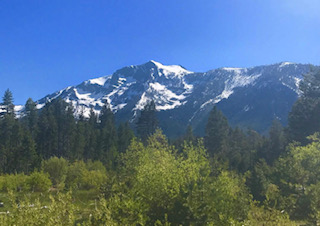 Fallen Leaf Lake
If you are looking for super simple access to an alpine lake, Fallen Lake Leaf is your best bet. Nestled at the base of Mount Tallac, Fallen Leaf Lake is framed by easy-going trails. The round trip encompasses 1 to 3 miles of relatively flat walking, depending on the distance you would like to go. This hike offers some of the area's best views of Mount Tallac as well as an interesting perspective of Desolation Wilderness. Fallen Leaf Lake is also known for its wildflowers in the spring and its stunning aspens in summer and fall.
Please be sure to visit our Daytime and Nightlife pages to learn about fun outings and events that you can pair with your alpine lake hike.
Photos courtesy of Tahoe.com.