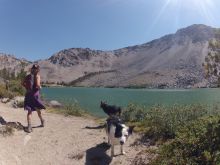 Are you a gaper?
If you don't know the term gaper and are traveling to Lake Tahoe, then it is one to put into your internal dictionary. Normally a term to refer to a clueless skier or snowboarder, it can also pertain to summer visitors.
An unfortunate byproduct of gaper-ism is that it can create grumpy locals in an otherwise welcoming tourist town. Less aware of the habitat and customs that are the reality for the locals, the gaper can unknowingly generate an attitude from locals that can be a bit cold, harsh and unhelpful in making certain that you are having the most amazing trip possible.
Here are three tips that will help you avoid the trap of being labeled a clueless vacationer, or even worse, a gaper.
Be aware of your surroundings
It is easy to be so astounded by the Lake Tahoe beauty that you are completely dumbfounded. But in that slap to the face that Mother Nature hands you, try with all your might to be aware of your surroundings and what is happening. For example, many gapers enjoying a scenic drive around the lake like to stop in the middle of the road near Emerald Bay to get pictures of the stunning vista. Avoid the trap by simply pulling to the side and parking in the parking lot. Another way you might become a gaper is during summer mountain biking. If the trail is so incredible and the need to take a breather arises, no worries. Just be sure to completely pull yourself and the bike off the trail so that it doesn't encumber any oncoming cyclists. With any endeavor that you partake in around Lake Tahoe, it is vital for your safety and those around you that you keep your eyes and ears open. Although this is a place of wonder to you, for many locals these trails, rivers and roadways are our place of recreation and we are moving along them at high speeds (whether it be by bike, boat or foot). This awareness not only prevents you from being labeled something that you are not, but also it helps you avoid collisions that could end in catastrophe.
Pack it in, pack it out
This aspect of gaper-ism is unfortunately becoming much worse in Lake Tahoe. Please, please, please do not litter. If you bring something to the beach, on the water, to the trail or to any other outdoor area, either throw it into a bear-proof trash container or pack it out to where you can find a bear-proof trash dispenser. The amount of trash that is being left behind on our beaches and along trails is horrific and is a disaster to the natural habitat. One example where gaper-ism is showing itself in full force is with bagging up dog poop on trails and then leaving that bagged poop on the side of the trail. To avoid the gaper label, be aware that there is no one who comes along and picks up the bagged poop. If you would rather not carry the dog poop out, then don't bag it. It is harder for Mother Nature to biodegrade poop in a plastic bag than poop that is upon the earth. But you really should clean up after your dog.
Obey the rules of the road
When it comes to driving in Lake Tahoe, the locals have a saying: "They must have left their brains at the summit." In reference to any visitor leaving their thinking capacity at the summit of Donner Pass as they arrived via Interstate 80 (the most common way to access the area), this little saying has a truth to it. There seems to be a common theme in the world of gaper-ism that shows offenders driving well over the speed limit in neighborhoods and well under the speed limit on major roads like Highway 89. This is a prime way to be labeled a gaper. One way to help avoid this mistake is to simply be fully aware of the roads that you will be driving prior to departing. And when you are in the neighborhoods, don't drive over 25 mph. If during your trip on major roadways you are finding yourself under the speed limit and there are cars behind you, please pull over at a safe place to let people pass. There is only one main thoroughfare that connects the towns in the basin. This becomes the only way for the locals to get to and from work. If there is one gaper going 30 in an area that is designated 55 mph, it can make a person late and that grumpy aspect just may come into effect.
May the joy of vacationing be with you and the world of gaper-ism never be encountered!
To find incredibly fun events while enjoying your non-gaper vacation, please visit our Daytime and Nightlife sections.
Photos by Shanie Matthews