Most people come to Lake Tahoe for the abundant opportunities to get out and play in the great outdoors. Whether you are looking to hike, mountain bike, kayak, sail, fish, rock climb, paddleboard ... well, I could go on, but I think you get the idea. The endless action is reason enough to enjoy this impressive area.
But there is another factor that makes Lake Tahoe amazing: nightlife and indoor entertainment. We have a great entertainment scene, especially for an area that is built on that "small mountain town" appeal. From big-name concerts to world-renowned plays, from awe-inspiring dance recitals to comedy shows that will tickle the funny bone, Lake Tahoe is rich in events that rival those of any major metropolis. 
To give attention where attention is due, I thought I would highlight three upcoming events for your calendar. Here's to having fun, laughing heartily and enjoying time together.
Thinking on your feet is a skill, but creating humor at the mention of a word is incredibly impressive. Tahoe iMPrOv Players is a fabulous way to see Tahoe improvisation comedians in action, and Valhalla Tahoe is hosting such an event with four nights of hilarity. The Players, who have been creating hilarious scenarios from audience suggestions since 1993, are gifted at making fun on the spot. With its beginnings as ComedySportz of Lake Tahoe, just three years later the comedians created the Tahoe iMPRoV Players, not knowing that 28 years down the road, they would become the longest performing theater act in Lake Tahoe. The Players will be performing this year's series of family-friendly shows in the impressive Boathouse Theatre. The showings are on June 22, July 26, August 3 and August 10. All shows begin at 7:30 p.m. Tickets are $18 for general admission or $28 for preferred seating. Please be aware that proof of vaccination and masks are required inside the Boathouse Theatre for all Tahoe iMPRoV events.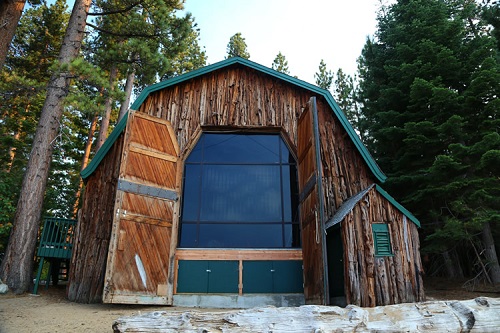 Valhalla Tahoe's Boathouse Theatre is a beautiful performance space on the shores of Lake Tahoe.
Bringing together splendid comedy and thrilling playwrighting, Murdered to Death is a superb spoof on the Agatha Christie murder mysteries ideal. Written by Peter Gordon, the setting is a country manor house in the 1930s, where an assembly of notable characters bring to question: Who committed a ghastly murder? From Bunting, the Butler to the snooty English Colonel, from the questionable French art dealer and his glamorous lady in waiting to the clumsy local inspector, each personality lends an aspect of comedy that muddles up the whodunnit crime scene. But when it becomes obvious that all at the party are in danger of also losing their lives, the stage becomes a frantic place of discovery of who the murderer is before anyone else perishes. This great excuse for a night out is also being hosted by Valhalla Tahoe in the Boathouse Theatre. There are a slew of dates to choose from, including June 30, July 1, July 2, July 3, July 6, July 7, July 8 and July 9. All of the shows run from 7:30 to 10:30 p.m. Price for tickets range from $20 to $30. Guests are required to have a proof of vaccination and masks to attend Murdered to Death.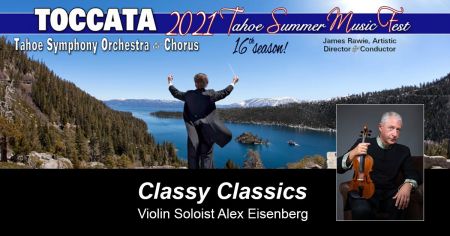 There is no better place, in my humble opinion, to take in a live symphony orchestra than in the basin, enjoying the atmosphere that is created by mingling with Tahoe locals. Luckily, this is an option at the TOCCATA Presents: Classy Classics. A concert series that begins with Rossini's William Tell Overture, it shifts into a moving rendition of the adored Violin Concerto in E Minor, written by Felix Mendelssohn and played by guest violinist Alex Eisenberg. The evening will conclude with an awe-inspiring interpretation of Beethoven's Symphony #5 in C Minor. The concert will be conducted by the talented Maestro James Rawie and held at The Sierra Bible Church in Truckee. General admission tickets cost $30 for adults, $25 for seniors and free for anyone 23 and younger. For preferred seating, adult tickets are $40 and youth or student tickets are $15. 
Photos from Tahoe.com