It's a holly, jolly time of year in Lake Tahoe.
With the stress that came with the global pandemic coupled with the devastation and loss connected to the Caldor Wildfire this summer, this holiday season seems more festive than others. The decorations that are coming to life in our little townships, the smiling faces of families as they window shop, the boisterous joy of gatherings that can be seen and felt at any dining experience around the lake – all of these are evidence that we are all ready for the joy and connection that comes from the holidays.
If you are looking for ways to get jolly and enjoy the festivities, Lake Tahoe has a calendar filled with entertainment for the entire family. Continue reading to learn about 11 ways to up the enjoyment factor for you and your loved ones this holiday season.

Incline Village
An event that spans the entire holiday calendar, Northern Lights Festival is a wonderful opportunity to enjoy the feeling of community through multiple gatherings. Starting the week after Thanksgiving, the event includes wonderful get togethers like the Tahoe Film Fest starting December 2, the Santa Pub Crawl on December 11 and Toys For Tots party on December 18. The event also offers an opportunity for the businesses of Incline Village and Crystal Bay to decorate and fill the town with holiday spirit. There is a tour of the different businesses, whether by foot or by car, allowing you to gaze and appreciate the fun at your own pace. The festival also gives a fantastic opportunity to visit the many amazing local businesses that make up these two small towns. Show them support through their Sip N Shop evenings, giving a chance to find that one-of-a-kind gift that the hard-to-shop-for loved one will treasure forever. To end the celebration, there are multiple New Year's Eve parties being celebrated at Biltmore Lodge and Casino, Crystal Bay Club and Hyatt Regency Lake Tahoe.
Incline Village
An event connected to the weeklong Northern Lights Festival, Brunch with Santa is your chance to rub elbows with Santa and Mrs. Claus as well as their hardworking elves. The Chateau at Incline Village opens its grounds to allow Santa to land his sleigh and spend one-on-one time with those who wish to share their wants and needs. The gathering comes with all of the bells and whistles, including a delicious brunch, a magician, arts and crafts as well as a photo with Mr. and Mrs. Claus. Adult tickets cost $20 and children's are $5.
Truckee
Truckee Community Theater presents Irving Berlin's White Christmas, The Musical at Truckee Community Arts Center in Downtown Truckee. Bringing back the classic story of Bob Wallace and Phil Davis, two Veteran soldiers and their romantic desire for the hand of two beautiful sisters with voices of an angel. Set in a Vermont lodge owned by the former Army commander of Bob and Phil, the play offers an uplifting musical that brings home the meaning of the holidays. Set to an inspiring musical score including favorites like "Blue Skies," "I Love A Piano," "How Deep Is The Ocean" and the perennial title song, this is a wonderful opportunity to spend time with the entire family. Tickets are $20 for general admission or $15 for students, seniors and military. There are two showings: matinees at 2 p.m. on Sundays December 5 and December 12 as well as evening showings at 7 p.m. on December 3, 4, 10 and 11.

Incline Village
A part of the Northern Lights Festival, Sip N Shop Small Business Saturdays are a gathering each Saturday during the holidays at a specific shopping location, allowing time to get to know the local owners that make up these unique and special places to shop. The lineup is as follows: December 4 at the Raley's Shopping Center, December 11 at the Village Center, December 16 at the Village Plaza and December 18 at the Country Club Center.
Incline Village
Hosted by Incline Village Library, the Northstar Chamber Players will be offering a holiday concert that will be treasured for years to come. A group that is known for its magical woodwind quintet abilities, the players will perform holiday classics from favorites such as The Nutcracker as well as Christmas carols and other beloved seasonal music. This is free concert, though registration prior is required. All ages are invited to attend. The concert is on Tuesday, December 14 at 5 p.m.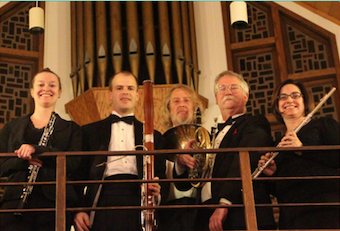 Incline Village
There's nothing more festive than sitting around a barrel fire, roasting s'mores and listening to fascinating stories and entertaining melodies. Come join the fun with Mr. Tahoe at Around Tahoe Tours as part of the Northern Lights Festival and listen as Mr. Tahoe serenades you with the best of Tahoe stories and song. This is a free event happening on Saturday, December 18 at 5 p.m.
Santa Crawl
Truckee
For those who enjoy a good cocktail with your co-mingling, this event is a must do. The Truckee Santa Crawl is an all-evening event that begins at the Bar of America and then continues as the party chooses. People start to congregate around 9 p.m., and the organized event runs until 11 p.m., although the partying continues on for as long as the bars stay open. Held on Saturday, December 11, it is free to attend. Attendees must be 21 years old or older.
Olympic Valley
What could be better than having a gourmet dinner served to you in a delicious buffet style, complete with carving stations, holiday side dishes and out-of-this-world desserts? Make this year's Christmas Eve something special by participating in Palisades Tahoe's exclusive Christmas Eve Dinner. Served with a complimentary glass of champagne upon your arrival – along with a full bar for afterwards – this is an opportunity to feel the elegance that comes only with the holidays. The event is held in the impressive Olympic House. Dinner begins at 6:30 p.m. Meals cost $29 for children and $75 for adults. Please be sure to make your reservations by Thursday, December 16 and include how many people will be joining you so that they can create a holiday table that will provide ample space for celebrating.
New Year's Eve Light Parade and Fireworks Show
Tahoe Donner
For a holiday event that is spectacular for the entire family, join Tahoe Donner's New Year's Eve Light Show and Fireworks. Set up to begin at the conclusion of a great ski day at the ski resort, the festivities begin with a community-favorite Light Parade that occurs on the mountain. If you are an intermediate skier or better and 10 years old or older, you are invited to participate in the parade. Sign-ups begin at 4:30 p.m., and the Snowbird Chair begins loading skiers and riders at 6:15 p.m. The parade is then followed up with their annual fireworks show. There will be outdoor fire pits to help stay cozy warm as well as hot toddies, hot cocoa and other yummy goodies.
South Lake Tahoe
A festival that runs from November 29 to December 31, this family-centric event is filled with holiday cheer for people of all ages. From daily tree lighting ceremonies to breakfast with Santa, from a holiday Ferris wheel to dance and theater performances as well as live music, the opportunity to enjoy everything holiday-inspired is at your fingertips at the Heavenly Holidays Family Festival. For example, to help ring in the new year, there will be a fireworks show with live music performed by country superstar Tyler Rich on December 30 and for New Year's Eve proper, the Gin Blossoms will perform. To kick the celebration up a notch, there will be holiday-themed après ski parties throughout the village as well as Santa Ski Day at Heavenly Mountain Resort and the Santa Run Walk in the Village.
Tahoe City
On the other side of the lake, Mo's BBQ is offering another fabulous way to ring in 2022 with their intimate New Year's Eve show with the all-time favorite band, Hot Buttered Rum. The indoor show is certain to sell out quick as Mo's is a favorite place for locals to go big and celebrate the rolling in of a new year. Tickets cost $35 in advance or $45 at the door. The show is on December 31, starting at 8 p.m.
Please visit our Daytime and Nightlife sections to learn about other fun holiday events happening around Lake Tahoe.