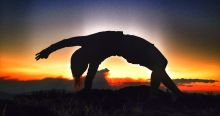 Yoga is one of those practices that brings immense health and vibrancy to all aspects of life. Especially important in a world affected by COVID, yoga offers support for the immune system and respiratory system and aids in the overall ability to rid the body of toxins. Yoga literally does a body good and can be the extra push toward health that could help a person avoid a trip to the hospital due to illness.
Luckily for locals and visitors, Lake Tahoe is blessed with an array of yoga studios offering their unique version of an ancient healing modality. Continue reading to learn about 11 Lake Tahoe yoga studios that will leave you feeling better than you did before you arrived.
Tahoe Vista
If grace is a word that you connect with yoga, a place that you can see it in action is at Tahoe Vista's Tahoe Flow Arts & Fitness. A welcoming environment that interweaves yoga, aerial arts, dance and fitness, Tahoe Flow Arts & Fitness is a landscape in which a person is encouraged to connect with their highest potential through meaningful movement. The teachers and instructors at Tahoe Flow are all deeply passionate about their offerings and are are gifted in providing a healing classroom container that allows a compassionate connection to one's own body, heart and spirit. Beyond dance and yoga, the space also offers a full-fledged gym, complete with cardio and strength training equipment as well as group classes and personal trainers to assist you one-on-one.
South Lake Tahoe
A studio that has its roots firmly planted in the soils of South Lake Tahoe, Tahoe Yoga Shala was once known as Mountain Yoga. Now the vibrant and welcoming Shala is a place for therapeutic yoga classes that are perfect for everyone from beginner to professional athlete to the advanced yogi. Their classes focus on stress reduction, fitness, self awareness and the creation of a like-minded community. They have a whopping 35 weekly classes, giving plenty of options for class times and styles of classes. One other bonus to the Shala is that their selection of teachers is superb and gives a sampling of various teachings of yoga including Ashtanga and Mysore, Vinyasa Flow, Ayurveda Hatha and Yin Yoga. 
South Lake Tahoe
Located in the heart of South Lake Tahoe, Tahoe Rising Yoga & Meditation Center is a heart-centered offering of both group and private yoga and meditation classes for all abilities and ages. With a desire to inspire the newbie, heal the injured and excite the experienced, Tahoe Rising is a place of coming together and appreciating the gift that yoga gives us: the ability to be stronger, healthier and better overall. An example of the beautiful space that is Tahoe Rising: Due to to the stress that the recent wildfires have placed on those in the area, the owner and some instructors are offering their classes through the month of September on a donation basis to help people not feel blocked by financial concerns if they need the peace of a yoga class.
Kings Beach
Nestled in the middle of Kings Beach, The Sanctuary offers a place for healing and rejuvenation through Pilates, yoga, massage and acupuncture as well as life-changing workshops. The well-designed space is divided into two sides – one for bodywork, the other for classes – and is incredibly welcoming and inviting. In fact, The Sanctuary has a motto: "to create a space that inspires connection, healing, unwinding and rebuilding." And that is something that they are truly succeeding at doing, one individual at a time.
Truckee
The mission of Truckee's Alpenflow Yoga is to create an atmosphere that offers support, kindness and devotion to each student that passes though their doors, while at the same time providing the upmost in excellence in yoga-teaching ability. To bring their mission to fruition they are set up in one of the most gorgeous yoga centers, offering more than 2,500 square feet of yoga studio space with state-of-the-art infrared heating system that takes healing up an entire notch. The classes are delivered in rooms considered warm or hot and are complemented with a high-end acoustics and sound systems, creating a auditory experience that matches their excellent instructors and works well for not only their classes, but also for workshops and events. The yoga space is connected to a small retail store and lounge area where students are encouraged to browse, shop and relax. The studio also offers large changing rooms and a shower.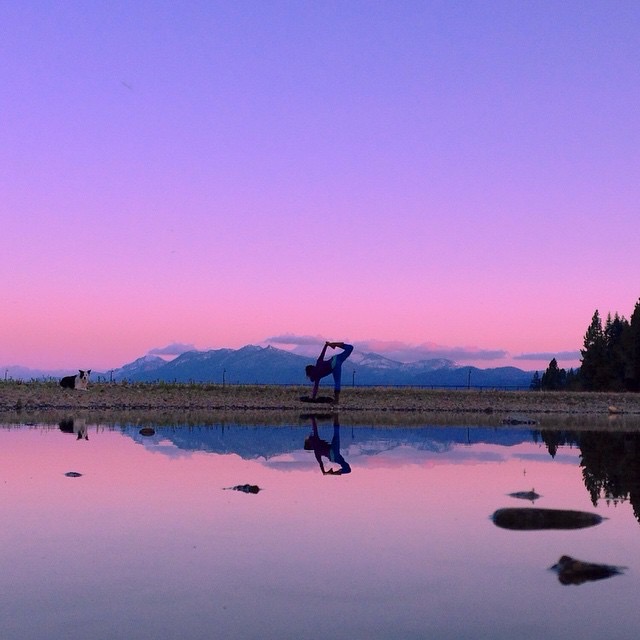 Truckee
Technically, this could be seen as just another spa experience. But if you consider that this Northstar 5-star health facility is literally a few steps away from Tahoe Yoga, then the picture becomes complete that this is a place of peace and rejuvenation for the body, mind and soul. The absolutely stunning day spa is a boutique adventure that offers massage, facials and a variety of other beauty and wellness treatments. The yoga studio offers daily classes for all levels as well as private yoga sessions for individuals or groups. 
Tahoe City and Truckee
Mountain Lotus Yoga is one of those special yoga studios that has been able to connect the amazing energy of Tahoe City with the joy of Truckee. Their studio in Tahoe City, literally located on the shores of Lake Tahoe, is a hot yoga paradise offering fantastic classes in a 100-degree setting as well as barre and paddleboard classes. Their Truckee offering is in a spectacularly renovated church that not only offers yoga, but also scrumptious plant-based food and exciting, heart-warming events that brings locals and visitors together with the energy of appreciation.
Tahoe City
If you are looking for a commanding view to go along with your exceptional yoga class, then The Yoga Room, located in Tahoe City, is a definite recommendation. Set up on the second floor of the Cobblestone Center, it is in a prime spot to take in the splendor that only Lake Tahoe can offer. The space is bright and happy, and the yoga teachers are all incredibly knowledgeable. In addition to great yoga classes, The Yoga Room is a place for healing massage as well as empowering workshops and connected events in Sierraville, such as their Yoga with Live Harp class that is a delight for the senses.
Still Water Yoga
Stateline
Located in Stateline, this warm, welcoming and spacious setting for yoga is a place for those new to the practice as well as advanced yogis. With the goal of enhancing each person's physical and emotional wellbeing, Still Water Yoga is considered a sanctuary for healing by many. One of the main reasons for this is their highly skilled team of teachers who provide the tools necessary for support on and off the mat. They offer a large selection of classes throughout the week and offer introductory offers as well as deals like your first class free or your first week of unlimited classes for only $15.
Truckee
Namaste Holistic Healing and Yoga Center is aptly named, as namaste means, "...the light in me honors the light in you." This is a place that brings the healing components of massage, acupuncture, Rolfing and shamanic healing to the gifts of yoga, creating a combin
ation that will leave you inspired, empowered and moving in the life direction that you most desire. One of the more affordable yoga studios in the area, Namaste also has a well-stocked yoga class schedule while at the same time providing an atmosphere that is unique and expansive for each class.
Kings Beach
This business is built on the approach that better health includes healthy habits that expand our body's innate healing abilities. Lake Tahoe Wellness Center brings to light various modalities that can help a person obtain health, including chiropractic, acupuncture, massage, infrared sauna, yoga and tai chi classes. They also offer indoor climbing and a full herbal pharmacy.
Please be sure to visit Tahoe.com's Daytime and Nighttime event sections to learn about fun happenings occurring all around the lake.