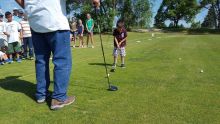 Lake Tahoe, with its breathtaking natural landscapes and invigorating alpine air, is a coveted destination for outdoor enthusiasts. Nestled within this stunning region, you'll find an array of exceptional golf courses that offer not only challenging fairways and well-manicured greens, but also the opportunity to immerse yourself in picturesque surroundings. From championship layouts to historic gems, Lake Tahoe's golf courses cater to all skill levels and promise unforgettable experiences.
Keep reading to learn about 11 scenic golfing playgrounds that you will want to put on your hit list.
Photo: The Ponderosa Golf Course makes golfing fun no matter what your age. Photo courtesy of Ponderosa Golf Course
Truckee
Tahoe Donner Golf Course stands as a testament to the union between natural beauty and the thrill of the game. This 18-hole championship course spans 7002 yards and is set against the backdrop of towering pines. Open to both homeowners and the public, it offers an exceptional golfing experience characterized by lush fairways, expertly designed greens and sweeping mountain vistas. The course's recent renovations ensure enhanced playability and a truly enriching mountain golf experience.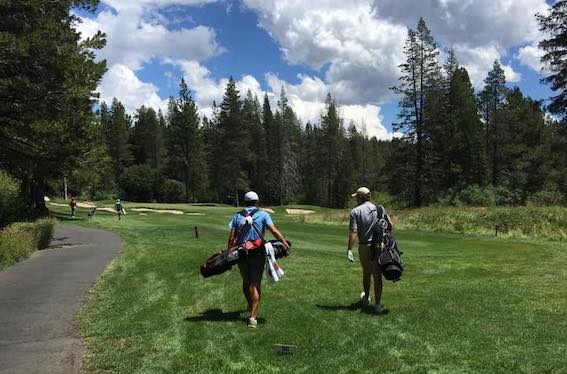 Tahoe Donner is a course for all abilities, even those looking at going to the pros. Photo courtesy of Bramlet College Golf Prep
Truckee
Ponderosa Golf Course, with its rich history and scenic charm, captivates golfers of all ages. Built by the residents of Truckee nearly 60 years ago, this 9-hole course winds through tall ponderosa pines, providing a serene atmosphere and a challenging game. Managed by Truckee Donner Recreation and Park District, Ponderosa Golf Course carries forward a legacy of community spirit while offering clinics and programs suitable for golfers as young as age 6.
Truckee
Northstar Golf Course delivers a distinctive blend of beauty and challenge. With the Meadow Nine offering picturesque views of Martis Valley and the Mountain Nine demanding strategic precision, this 18-hole course provides a diverse golfing experience. As you navigate through tree-lined fairways and take in breathtaking views, you'll realize that Northstar captures the essence of Lake Tahoe's natural allure.
Truckee
Old Greenwood Golf Course, designed by Jack Nicklaus, offers an exclusive and challenging experience. This 18-hole course's strategic layout requires precision, rewarding straight hitters with pristine fairways and stunning surroundings. With its practice facilities and Golf Academy, Old Greenwood caters to players aiming to elevate their game.
Truckee
Coyote Moon Golf Course seamlessly integrates with the rugged landscape, treating golfers to an authentic mountain experience. Enveloped by granite boulders, towering trees and a meandering creek, this 18-hole course is a testament to the harmony between nature and the game. With stunning views of the Sierra Crest, Coyote Moon offers challenges and rewards at every turn, promising an unforgettable round of golf.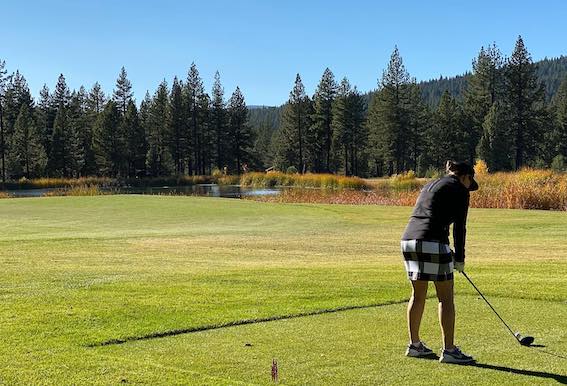 The Golf Club at Gray's Crossing is a place of beauty. Photo courtesy of Matt Whalen
Truckee
The Golf Club at Gray's Crossing is a testament to harmonious design, blending seamlessly with the surrounding terrain. Designed by Peter Jacobsen, this course offers 18 distinct holes that cater to various experiences. The addition of PJ's Bar and Grill as the 19th hole ensures that your golfing journey concludes on a satisfying note.
Tahoe City
Tahoe City Golf Course boasts a legacy that dates back to 1917, when renowned golfer May "Queenie" Dunn created this 9-hole gem on the Tahoe Tavern resort property. Offering stellar views of Lake Tahoe and flat terrain, this course is a blend of challenge and accessibility. Its historic significance, combined with the delightful on-site Café Zenon, makes for an experience that's both nostalgic and rejuvenating.
Olympic Valley
Links at Everline's 18-hole championship course invites golfers to embrace the wilderness. Winding through marshland, forests and mountainsides, it offers an array of challenges for both novice and experienced players. The winter transition into a cross-country ski course showcases the course's adaptability and commitment to offering year-round enjoyment.
Stateline
Edgewood Tahoe's lakeside golf course is a masterpiece of design and natural wonder. As the host of the American Century Championship, this course has challenged golfers since 1968. With varying tees catering to different skill levels, it presents a unique golfing experience framed by majestic Lake Tahoe. Golf clinics and group packages further enrich your time on this exceptional course.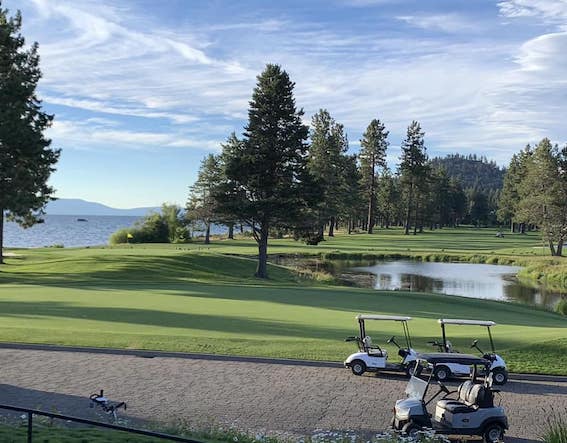 Enjoying the views of Lake Tahoe while golfing at Edgewood makes the experience that much better. Photo courtesy of Lamar Collins
South Lake Tahoe
Bijou Municipal Golf Course embodies history and simplicity, making it a cherished choice for golfers seeking a touch of nostalgia. With scenic views of the Sierra mountains, this century-old course lets players focus on the essentials of the game. As a municipal course, it provides an accessible golfing experience with reduced fees for residents.
Kings Beach
Old Brockway Golf Course, approaching its centennial, invites golfers to step back in time while enjoying the Sierra mountain scenery. With no water hazards and a view that's as captivating as the course itself, Old Brockway offers a unique and historic golfing experience. Its reputation for being welcoming and entertaining remains as strong as ever.
Lake Tahoe's golf courses offer more than just a game; they provide an opportunity to connect with the region's natural beauty while engaging in a sport that's both challenging and rewarding. Whether you're a seasoned golfer or a beginner, these courses promise an unforgettable experience that's sure to leave you wanting more.