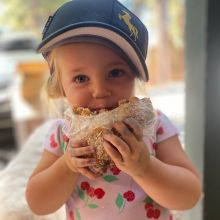 When it comes to adding some sweetness to life, you just can't go wrong with a good dessert. Whether you love the creamy taste of ice cream or the delicious comfort-food feel of a just-made slice of chocolate cake, there is something magical about enjoying a little love from the sugar gods.
Lake Tahoe is a destination rich in delectable sweetness. For those times when you need to satisfy your sweet tooth, here are 10 of my favorite places. Comment below if you have a favorite place that you would like to add to the list ... the more, the sweeter. 
A favorite dining experience on the west shore of Lake Tahoe for both locals and visitors, Sunnyside offers two restaurants in one – one side casual, one side fine dining – with both providing opportunities to enjoy maybe one of the best desserts known to mankind, their world-famous Hula Pie. A delectable combination of Oreo cookies, vanilla ice cream, chocolate, hot fudge and whipped cream, this is my absolute favorite way to get a sugar high. A gigantic serving, the Hula Pie is a perfect treat for sharing or for those who deserve their fair share of sweet. 
If your sweet tooth deserves some quality "me" time, then there is a spa for you! Aloha Ice Cream and Dessert Spa is a literal place of ecstasy for anything that has to do with the sweeter side of life. This welcoming, locally owned business is filled with incredible flavors of ice cream, the makings for a huge sundae as well as ice cream cakes and fresh waffle cones. They are perfectly located on the bike path near Timber Cove Marina and Lakeside Commons in South Lake Tahoe to offer that perfect ending (or beginning) to a bike ride or leisurely stroll on the shores of Lake Tahoe. One tip: Be sure to bring cash or visit the neighboring ATM prior, as cash is the only currency accepted.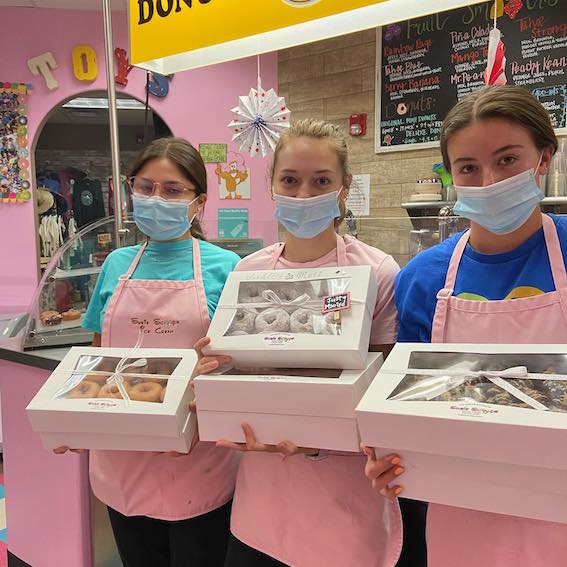 You can't go wrong with wedding donuts from Susie Scoops to make your day special. Photo courtesy of Susie Scoops
Nestled in the quaint community of Incline Village is one of Lake Tahoe's best year-round offerings for ice cream, Susie Scoops. A place reminiscent of ice cream shops of days gone by, Susie Scoops is one of those fantastic ice creameries that offers amazing ice cream in all the flavors you could ever wish for (they have 28 to choose from). But the goodness doesn't stop there. They also have a huge selection of other yummies, like donuts, frozen yogurt, smoothies, shaved ice (in a whopping 18 different flavors), floats, hand-dipped waffle cones, specialty sundaes, pints of ice cream to go and, last but surely not least, their stupendously tasty ice cream cakes. 
If you are looking for a place known for its amazing wedding cakes, but a cafe that also offers other delicious bakery items as well as breakfast choices, sandwiches, salads, quiches and coffee, then the tiny Sugar Pine Cakery in Tahoe City is a must stop. This adorable little shop is owned by local Allison Sayles, who has dedicated her life to providing organically delightful sweet treats for the community. Besides her amazing wedding cakes, her little bakery also offers gluten-free and vegan choices and delights like cookies, brownies and cupcakes. Sugar Pine Cakery is closed on Mondays and Tuesdays.
A perfect spot for those enjoying the beauty of Heavenly Village, Cold Stone Creamery is worthy of a visit to satisfy the sweet tooth. Filled to the brim with ice cream dishes and other fun creamery concoctions like cakes, cookies, shakes, smoothies, yogurts and sorbets, Cold Stone Creamery offers a fantastic place to sit back and take in the entertaining happenings in the Village. If you are in a hurry, you can also make your order online prior to visiting. 
The colors of art in the form of gelato. Photo courtesy of Art of Gelato
If haven't yet tried gelato, the Italian masterpiece of dessert, then you must stop what you are doing right now and head directly to Art of Gelato in South Lake Tahoe. This culinary gift from the gods is a must try for every human being, and the Art of Gelato is the perfect place to get it. A hidden gem within the Ski Run Marina, the Art of Gelato offers a giant menu with a ton of flavors to satisfy every type of sweet tooth. With their location situated directly on the shores of Lake Tahoe, they are also aptly placed for enjoying the cool sweetness of gelato while appreciating a hot summer day at the beach.
Sweet Tahoe Time Ice Cream
Located smack dab in the middle of Kings Beach, Sweet Tahoe Time Ice Cream is a centrally located, locally owned, ma-and-pa ice cream shop with a huge selection. But I think what makes this place high on my list is their ample selection of unlimited toppings. How can you go wrong with unlimited toppings? They also offer a toy and activity area for the kids as well as ice cream for doggies!
Poppy's is definitely known for its incredible selection of frozen yogurt and sorbet, especially with the flavors changing daily. But there's more to this tiny outdoor eatery. This is the place for your cheapest breakfast option on the north shore with their $3 English muffin with sausage. It is also a superb location for a quick lunch with their outdoor seating and walk-up order window. Poppy's is a summer-only business, so be sure to visit prior to the coming of autumn.
Do you yearn for a mouth-watering ice cream sandwich? Then your next stop should be The Baked Bear in South Lake Tahoe. Their homemade cookie recipe is the base for this incredible treat made from scratch. They then top it with a hand-scoop of homemade ice cream that will knock the socks off any ice cream sandwich competition. I really mean it when I say, "You will never have as a delicious of an ice cream sandwich as the one at The Baked Bear." It's the truth. If cookies aren't your thing, you have the option to make your ice cream sandwich out of brownie instead. When it comes down to it, The Baked Bear is here for your ice cream sandwich needs.
If you want that quick pick-me-up, you just can't go wrong with quality chocolates. Thankfully for all of us on the north shore, we have Tahoe City Chocolates. A home to all things chocolate, they bring in only the best, with choices ranging from handmade chocolates from the Sierra Nevada to handmade chocolates from the Alps. They also offer ice cream, fudge and hard candies as well as giant lollipops, tequila truffles and hundreds of flavors of jelly beans.
Please be sure to check out all of the activities and events happening around the lake in our Daytime and Nightlife sections.
First photo courtesy of Sugar Pine Cakery