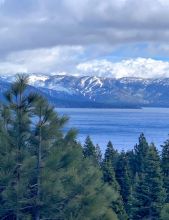 Mother Nature is handing us a different card from last year as far as snow totals go. Although our winter began with a bang, a lack of moisture has slowed things down. The winter may be lacking in snowfall so far, but no matter what Mother Nature decides to do, the area is still hopping with fun and interesting activities.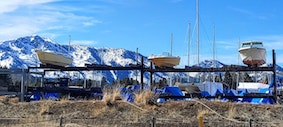 I wanted to highlight some of my favorite ways to take advantage of low snow levels. Here are ten of my favorite activities. Do you have any to add?
Hike Eagle Rock
A wonderful way to get out and enjoy the views with minimal effort is to wander up Eagle Rock. Located off West Shore Boulevard (Highway 89) near Homewood, this is a great hike for all ages. Expect a little mud, ice and snow right now.
Boutique Shopping
One of the special aspects of living in Lake Tahoe is all of the small, locally owned shops that sell one-of-a-kind treasures. From awe-inspiring photography galleries like Gallery Keoki in Squaw Valley to little shops that are unique and fun like GaiaLicious Boutique in South Lake Tahoe, each township in the basin has its own unique little stores in which you can spend an afternoon of browsing.
Mingle with the Locals
One of the places that you are sure to see locals is at events that showcase health, wellness and enjoying our great outdoors. If you are looking to mingle with those who call Lake Tahoe their home, be sure to check out events like Alpenglow Winter Speaker Series. The next event in the series is coming up on Thursday, February 20. Professional skier Hadley Hammer will present "Redemption Through Adventure." Doors open at 6 p.m., and the event is free. Raffle and bar proceeds benefit Tahoe Fund.
Enjoy East Shore
One of my absolute favorite things to do when there isn't much skiing going on is to enjoy the East Shore of Lake Tahoe. With the bike path that recently opened at Incline Village, it is even easier to enjoy the beauty that only this side of the lake provides.
Ride the Bike Path 
Rent a bike and take advantage of the miles of paved bike paths that wander the shores of both South and North Lake Tahoe as well as the Truckee River. There are bike shops throughout the basin that rent bikes, making it simple to enjoy the crisp, clean air and the stunning views via your own set of two wheels.
Cross-Country Ski
One of the advantages of cross-country skiing is that it doesn't require a lot of snow. Tahoe Donner is your best bet when snow is meager. Another highlight to Tahoe Donner is that you can try out fat-tire bikes that make for a great time riding on snow.
Walk Commons Beach
 Another fantastic place to enjoy the lack of snow is walking along the lake at Commons Beach. This area tends to give room to wander around and enjoy the views off the beaten path, in the winter when water levels are low.
Stay Out Late
One blessing to Lake Tahoe is that there is some sort of great live music event happening pretty much every night of the week, if you take into consideration South Lake Tahoe and the North Shore as well as Truckee. Check out our nightlife section to see the list of options … they are quite impressive for a small mountain area, in my humble opinion.
Hit Snowfest
The big events happening this time of year tend to be all-out extravaganzas. Take for example the upcoming Tahoe City Snowfest. This week-long Mardis Gras-style event is filled with daytime and evening gatherings that range from family-friendly to all-night parties. Snowfest runs from February 28 to March 8. Check out the website to learn the details. 
Mountain Bike in Truckee
Another highlight of low snow is that the mountain bike riding in Truckee tends to be phenomenal. One ride that tends to be good this time of year is Emigrant Trail.
That's not nearly all there is to do this week. To learn about all of the events happening in Lake Tahoe, be sure to check out our Daytime and Nightlife sections.
Photos: Tahoe.com