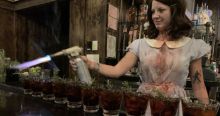 It's darn right spooky here in Lake Tahoe.
The cold nip to the air, the changing colors of the leaves on the trees and the ample Halloween decorations let you know that a fright fest is right around the corner. From festivals to community gatherings, Lake Tahoe is ready to celebrate with ghoulish delight.
To help you know just what to do, where to be and when to be there, I have gathered the top 10 events for celebrating Halloween Lake Tahoe style.
Photo: Courtesy of West Shore Cafe
The Haunting at West Shore Cafe
October 21
West Shore
Get your Halloween weekend started off right by partaking in West Shore Cafe's Thursday, October 21, evening extravaganza. Beginning at 6 p.m., this upscale gourmet dining experience is giving you a taste of devilishly great food by offering a spooky dinner that is specially curated by the West Shore Cafe team. The event begins with an exclusive VIP entrance into Homewood's Haunted House. After you've been frightened to your heart's content, you then can enjoy your time in the restaurant. The menu is stacked full of killer cocktails, swamp juice, treacle tarts, bat wings, cauldrons of eyeballs and finger foods. A seated dinner will be presented at 7:30 p.m. The entire event costs $125 plus tax and gratuity. Tickets are available online.
Halloweekend at Homewood
October 22, 23, 24
West Shore
Although this event has shifted a bit because of the unexpected early snowfall, this ghastly gathering is still on throughout the weekend, with activities happening in the evening hours only. Despite the planned outdoor activities being canceled, like the Haunted Chairlift, kids' games and live music, the resort decided to extend the event hours and offer an all-ages Haunted House from 5 to 7 p.m. From 7 to 9 pm the Haunted House gets even spookier and is perfect for anyone 9 years old and older. If you're hungry, the Homewood Hofbrau Food Truck will be serving up fall-themed tasty treats Friday, Saturday and Sunday from 5 to 8 p.m. The entire event happens October 22, 23 and 24. Tickets cost $20 for adults, $15 for children or $10 if your child is a part of the Tahoe Truckee Unified School District. Tickets may be purchased online.
Zephyr Point's Spooktacular Halloween
October 28
South Lake Tahoe
Come one, come all, to Zephyr Point's inaugural Spooktacular Halloween Community Engagement Event. A gathering for all ages, this festive occasion is filled with spooky fun, frighteningly yummy food and an opportunity to say hello to the local community of Zephyr Point. An event supporting the youth programs of Zephyr Point, this is not just a good time, but also a way to support the township. The event is filled with ghoulish activities such as a haunted house, trick or treating, pumpkin painting, face painting, fair games, the Gaga Ball, a bounce house, tractor rides, a costume contest offering spooktacular prizes as well as spooky tunes. There will be food, hot drinks, snacks and, of course, candy. Tickets cost $25 per car, with carpooling being highly encouraged as there is limited parking.
Proper Halloween Vibe
October 29
South Lake Tahoe
Come together with fire spinning and bass with Proper Vibe Productions' Halloween party at the American Legion in South Lake Tahoe. Happening on Friday, October 29, the show will bring together Milano, Snuffy, Cambot, Thumper and Shookwook as well as others for a spooky spin-off of heavy hitting West Coast bass. Hosted on two different stages, the bass will be thumping from 8:30 p.m. to 1:30 a.m. The music will be brought to the next level with an open fire spinning circle by the incredible Serendipitous Circus Productions, happening from 7:30 to 9:30 p.m. Attendees are asked to come in their best Halloween attire. There will be organic treats available from Eats Cooking Co. as well as scrumptious organic lemonade mocktails by Limonada Tahoe. Tickets cost $23.
42nd Annual Freakers Ball Halloween Party
October 30
South Lake Tahoe
Maybe the most popular way to get wicked for Halloween in Lake Tahoe is with MontBleu Resort's Annual Freakers Ball. Considered one of the best places to mix and mingle with all of the ghoulish creatures of the night, this party takes the night to a feverish level. There will be two parties to choose from, with one celebration happening in the MontBleu Showroom and the other in the Opal Nightclub. There will also be a Costume Contest with an impressive prize of $10,000. You will also have the pleasure of enjoying VIP tables and bottle service at both venues as well as receiving room discounts when purchasing tickets for the event. The adults-only party is on Saturday, October 30, with tickets costing $50 in advance or $55 the day of the event. There are tickets available for the Showroom only as well; $25 if purchased in advance, $30 if purchased the week of and $35 if purchased the day of the ball. 
Halloween Bash & Costume Contest at the Loft Tahoe
October 30
South Lake Tahoe
If you are ready to get freaky, come to The Loft's 5th Annual Halloween Bash & Costume Contest. A festive occasion complete with decorations, party favors and DJs spinning dance music until 2 a.m., this is sure to be a great gathering. The costume contest has prizes for the top three performers, with more than $1,000 in prizes being offered, including dinners, drinks, bottle service, show tickets and other fun goodies. This event offers all-night drink specials as well as VIP tables and bottle service in their exclusive fire-pit section. The bar and restaurant begin serving at 5 p.m., with music starting at 10 p.m. This event is on Saturday, October 30. Tickets cost $10. This is a gathering for those age 21 and older.
Halloween Rock N Roll Circus
October 30
Incline Village
For those who love to rock, this is the celebration for you. Alibi Ale Works in Incline Village is setting the stage for a fright like no other. Set in their impressive outdoor Alibi Amphitheater, the event will feature local rock legends Metal Echo, who will mesmerize and awe you with their head-banging rock accentuated by the grace of the aerialists from Tahoe Flow Arts. The Halloween Rock N Roll Circus is a free event happening on Saturday, October 30, beginning at 8 p.m. I highly recommend getting there early, though. There will be fun festivities to take advantage of as well as prizes going to the best costumes.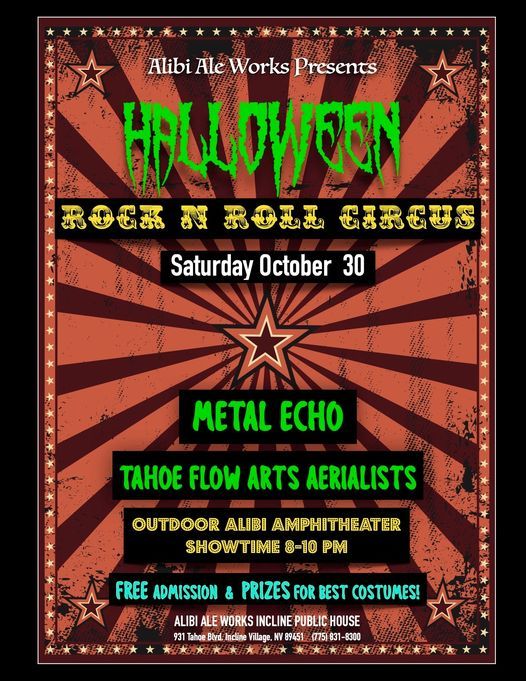 The Polish Ambassador at the Crystal Bay Casino
October 31
Crystal Bay
If you enjoy sublime artistic music that exemplifies a safari of sounds, then you must check out The Polish Ambassador and his two-sets-in-one-night offering for Halloween. A persona with a trademark jumpsuit and infectious, enthusiastic energy, the man behind the legend, David Sugalski, is a global sensation who brings electronic music to life. This dual-set show is certain to be the place to be seen as The Polish Ambassador truly is the funkiest diplomat partying with a purpose. His show is on Halloween proper, Sunday, October 31, beginning at 9 p.m. This is an age 21 and older show. Tickets cost $15 each and are available online.
Downtown Tahoe City Trick or Treat
October 31
Tahoe City
Calling all families: This is a fantastic event for you! The Tahoe City PUD Parks and Recreation Department along with the fun-loving businesses of Tahoe City have come together to offer everyone a fun and safe place for families to trick or treat. There is a check-in at the Heritage Plaza, where you can learn about the details and logistics for the event. This is a free event on Sunday, October 31. It runs from 3 to 5 p.m.
Lake Tahoe Marathon
October 29, 30, 31
South Lake Tahoe
For those who want a healthier approach to Halloween, check out our beloved Lake Tahoe Marathon. Usually happening weeks prior to Halloween, this event has been sidelined first by COVID and then by the Caldor Fire. But neither sickness nor fire can keep the good people of South Lake Tahoe down. Organizers moved this favorite event to Halloween weekend, offering the three-day smorgasbord for runners from October 29 to October 31. The trifecta of race days will offer various ways to play, including the Lakeside Marathon, the downhill Nevada Half Marathon, the Cal-Neva Marathon, the Carnelian Bay Half Marathon, the spectacularly beautiful downhill Emerald Bay Half Marathon or, the grandaddy, the 26th Lake Tahoe Marathon. There will be other exciting events, like the Midnight Express 72-mile Ultra Race, the 4-Person Marathon Relay, a 16.4-mile race, the Edgewood 10K, the Super Hero 5K as well as my personal favorite, the Kids' Free Pumpkin Run. The event is in honor of firemen, police and EMTs, with all active firemen, police and EMTs offered a $60 entrance fee for any of the races. 
Please be sure to check out other events happening around Lake Tahoe in our
Daytime
and
Nightlife
sections.