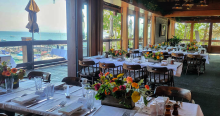 One of my all-time favorite things to do after a great day outside is to take advantage of the amazing dining experiences here in Lake Tahoe. That is especially true when it involves gazing out at the breathtaking beauty of Big Blue.
Luckily, there is a great selection of impressive dining options that involve the opportunity to take in the bliss of a front-row seat to the lake. Keep reading to learn seven of my favorite places to enjoy waterfront dining on Lake Tahoe.
Photo: A beautiful view is just one of the things that Jake's on the Lake is known for. Photo courtesy of Jakes on the Lake
Tahoe City
Considered an all-time favorite by locals for decades now, Jake's on the Lake is literally steps from the shores of Lake Tahoe. Situated in Tahoe City, its fantastic location makes it simple to enjoy a leisurely stroll after dinner or sit back and enjoy the view on the open-air deck. One of the reasons that Jake's is so popular is because of the enormous bar that is central to the action and is stocked with any drink your heart desires. The menu is the other reason that Jake's will always remain a favorite. There's a huge menu filled with a plethora of choices, and the dishes are always incredibly tasty and well sized. A relative to West Shore's Sunnyside Restaurant & Lodge, Jake's is the other home of the famous Hula Pie, a gigantic serving of vanilla ice cream, crushed Oreos, chocolate and hot fudge. This is one dessert that deserves to be shared.
Carnelian Bay
Gar Woods is another absolute favorite situated right on the shores of Big Blue. It is known for delectable food, impressive views and a drink menu to be remembered. In fact, one of their signature drinks, the Wet Woody, is known far and wide. A frozen blend of rums, peach schnapps and cranberry, orange and pineapple juice, it is topped off with a little more high-shelf rum. Their menu is amazing, filled with yumminess like Dungeness Crab Cakes, Ahi Poke Tacos and grilled items such as prime steak, Hawaiian-seasoned seafood and seared scallops. For the winter, there is a fantastically large fireplace to cozy up next to and enjoy a hot toddy.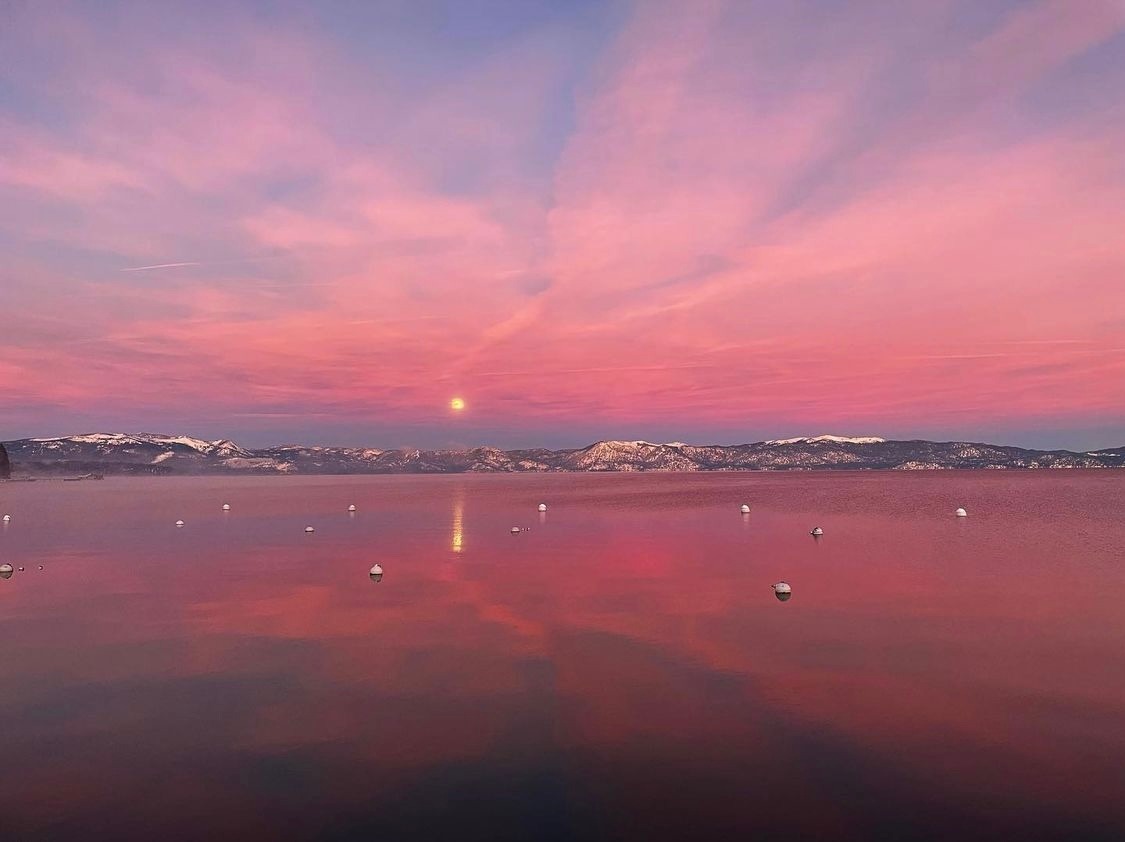 A full moon rising always gives dinner at Sunnyside that extra bit of sparkle. Photo credit Tahoe Floats
Tahoe City
Located on the West Shore of Lake Tahoe, Sunnyside is a prime spot for enjoying waterfront dining, whether you are looking for something a little more casual or high-class gourmet. With two restaurants, Sunnyside offers a unique opportunity to explore two different versions of lakefront dining all in the same place. The left side of the restaurant (when looking out towards the water) is a casual approach to Californian dining, with dishes like fish tacos and cheeseburgers. The right side, on the other hand, is a 5-star opportunity to enjoy the finer side of life. With exceptional dishes and an award-winning wine menu, Sunnyside delivers when it comes to offering a true gourmet dining experience. There is a centralized bar that supports both restaurants, while at the same time offers views to the water. But the highlight here, just like Jake's on the Lake, is the divine Hula Pie.
South Lake Tahoe
The South Shore's home to the Wet Woody cocktail, Riva Grill is a huge restaurant (3,000 square feet to be exact) that has made a name as a top dining experience for good reason. Serving guests since 1998, Riva Grill is highly skilled at serving up incredibly tasty meals that match the accompanying stunning views. With floor-to-ceiling windows, the dual-level dining room provides incredible vistas that are special to this location. A few recommended items on the menu include their mouthwatering Bacon-Wrapped Filet and Scampi with Point Reyes Bleu Cheese Butter or their Blackened Fish Tacos. My favorite go-to, though, is their wood-fired pizza, because the crust is one of the best in the basin, in my humble opinion.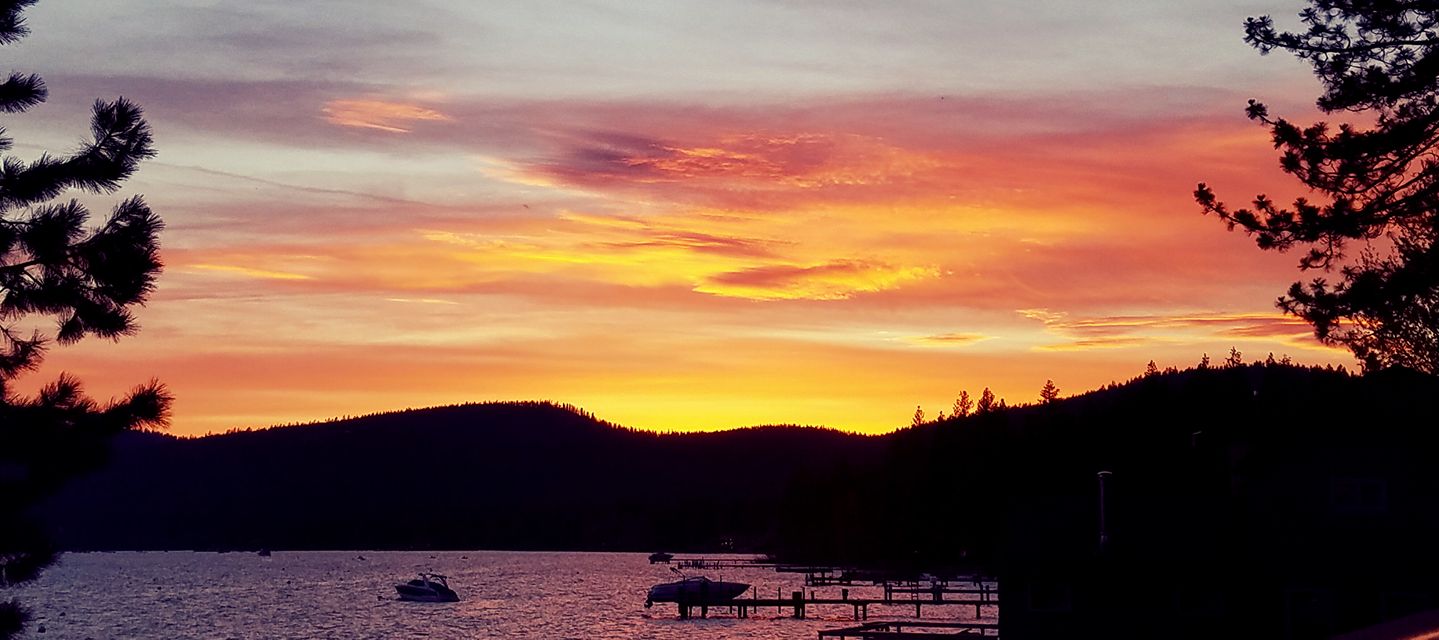 A specialty at Jason's: views that mesmerize. Photo credit Jason's Beachside Grille
Kings Beach
Jason's is the quintessential place for coming together and enjoying time with those you care about. With a fun and welcoming atmosphere, this beachside American eatery offers both the outside deck experience as well as an old-school rustic Tahoe interior. The menu is packed full of classics like prime rib, pasta, gigantic gourmet burgers and nightly specials that are consistently rotating. The local favorite, though, is their finger-licking good, slow-cooked baby back ribs drenched in their house specialty sauce. To top off the experience, Jason's has a full bar that offers a beautiful assortment of wines as well as specialty beers. They also have a kids' menu.
A little bit off the beaten path of Tahoe City, Za's is superbly located to take in Lake Tahoe and all of her glory. Set above Commons Beach and the Lake Tahoe bike path, Za's is literally steps from the water's edge. With incredibly delicious burgers, pizzas, calzones, pasta dishes and vegetarian choices, Za's food is just as tasty as the view is beautiful. To help keep the entire family happy, they also offer a children's menu. In the spring, summer and fall, weather permitting, Za's opens their Lakefront SideBar, offering scrumptious bites like ceviche, ahi poke, shrimp & avocado cocktail as well as libations that will delight you.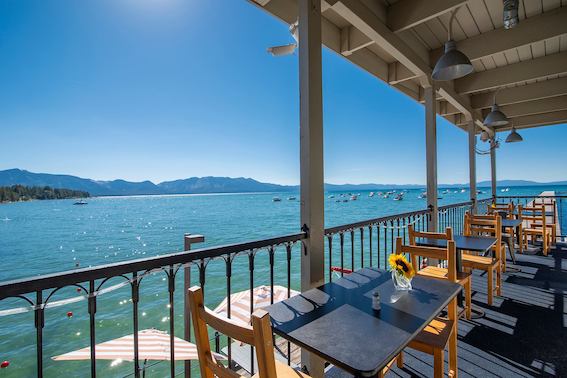 With some of the best views in Lake Tahoe, Boathouse on the Pier is already a step above the rest. Photo credit Beach Retreat & Lodge
With the reputation as one of the prime locations to watch a sunset, Boathouse on the Pier offers views that showcase the abrupt rising of the mountains from the shores of Lake Tahoe. The restaurant's expansive pier luxuriously catwalks over the turquoise water, a specialty to the eastern shores of the lake. This special arrangement allows all diners to experience views that will lovingly remain in memory for years to come. Having a casual yet upscale atmosphere (dogs are allowed on the pier, for example), the entire experience is brought expertly together with favorite dishes like their exquisite crab cake appetizer or their sumptuous Elephant Garlic-Crusted Wild Salmon.