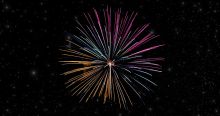 Can you believe that the 4th of July is almost here? With Lake Tahoe's biggest celebration of the season just around the corner, it's time to start putting together your plans for what to do, where to go and what to bring.
If years past are any indication, it is vital for the enjoyment of all to have your Plan A, Plan B and a potential Plan C ready for what entertainment you want to partake in for the celebration. The 4th of July has been known for causing its fair share of traffic jams and inaccessibility. Approaching Lake Tahoe's busiest time of year with the knowledge of what you want to do will help to avoid frustration and hassle.
To help, I thought I would give you my top eight picks for what to do on July 4th. See one I missed? Please share in the comments below. We would love to hear from you.
This is definitely the year to show our gratitude to all of our local heroes. And what better place to do it than along the shores of Lake Tahoe. Incline Village is paying homage to all those who help us live safer, healthier and better lives. From fire fighters to peace officers, from healthcare workers to educators, from veterans to service workers, the Local Heroes 4th of July Weekend and Parade is all about showing appreciation to those who deserve it most in our communities. The weekend offers various ways to rub shoulders with our inspirational local heroes, such as the multi-location pancake breakfast and the nonprofit-supporting Firecracker Race. The parade will be an extravaganza in its own right with fabulous floats, a Tahoe-iffic bike parade, classic cars, Tahoe dogs as well as a smorgasbord of fire and rescue vehicles. This event is an annual affair hosted by the IVCBA Community and Business Association, Rotary Club of Tahoe-Incline, IVGID and the Washoe Sheriff's Office.
Keep Tahoe Red, White & Blue 3rd of July Celebration + Fireworks
Happening a day prior to the holiday, this party held by the Hard Rock Hotel & Casino brings together the excitement of fireworks with the engagement of live music. Happening on Guitar Plaza, this outdoor celebration will be filled with impressive live entertainment as well as outdoor games to play while enjoying the fireworks show. The event begins at 7 p.m., and the fireworks start at 9 p.m. Tickets cost $65 per person and include complimentary food.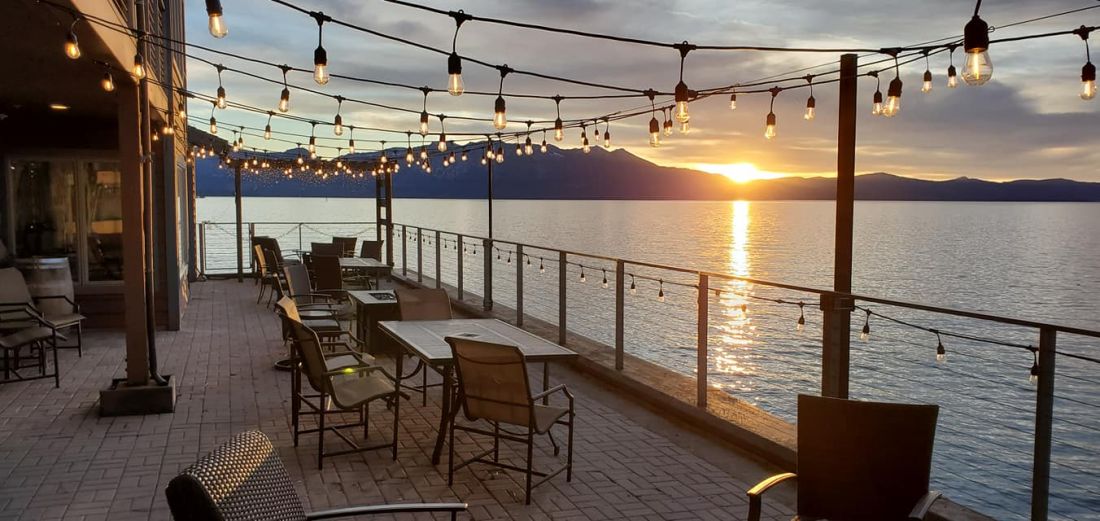 The deck at The Idle Hour in South Lake Tahoe provides the perfect spot for watching the fireworks over the lake. Photo: The Idle Hour
For those age 21 and older, this is a party that will go down as one to be remembered. Celebrate 4th of July at The Idle Hour with their two amazing parties in one. The upstairs will be host to an intimate, 40-person setting, whereas their beach patio will be available to 60 party goers. Both levels offer food and beverages as well as fabulous entertainment provided by the Sierra Gypsies Band. The event begins at 5:30 p.m. Tickets cost $160 per person for the Beach Patio Party and $200 per person for the Upstairs Party.
Join the North Shore crowd for some great live music at the ever-popular Moe's Original Bar B Que. This celebration on the shores of Lake Tahoe offers various options to party the evening away, including sitting at table pods. The party runs from 5:30 to 11 p.m. Tickets cost only $40. It is highly encouraged to purchase tickets prior to the day of celebration.
Join the shops at Heavenly Village, including Lake Tahoe AleWorx, Lucky Beaver Bar & Burgers and DrueMurin Productions, for an amazing night of fun and appreciation. Created in response to the cancellation of Lake Tahoe's popular Lights on the Lake Fireworks show, this extravaganza was made possible by local businesses, the various shops of Heavenly Village, organizers, locals and the South Lake Tahoe Lodging Association coming together to raise money for a new form of celebration. This movement forward created a cleaner, smaller, more intimate opportunity to take in breathtaking fireworks from the top of the Michael Laub building at Stateline in the casino corridor. The fireworks display is scheduled for 9:20 p.m. There will be live music and DJs as well as a showing from the impressive band The Killer Dueling Pianos for the celebratory show. 
Grand Rooftop Terrace Fourth of July BBQ, Bar and Live Music from the Connor Party Band
If you are looking for great views along with a yummy BBQ for your 4th of July celebration, then look no further than Grand Rooftop Terrace at The Landing. Providing delicious from the BBQ, ice cream bars, iced tea and lemonade as well as a full bar and featured cocktails from Tahoe Blue Vodka, this is an all-American event complete with burgers, dogs, chips and a fruit salad. Beyond the tasty food, there will be toe-tapping music offered by the entertaining Connor Party Band. The party begins at 3 p.m. Tickets cost $65.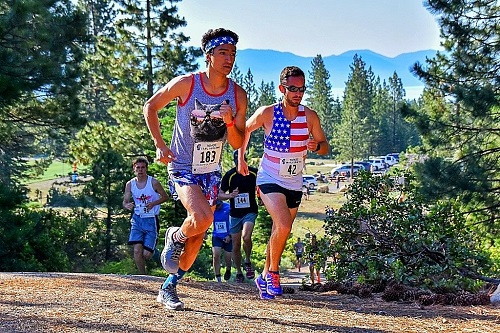 Run don't walk to the the Big Blue Adventure Run to the Beach in Tahoe Vista Recreation Area. Photo: Big Blue Adventure
If fireworks really aren't your thing and you would like to celebrate in a different way, check out Big Blue Adventure's Run to the Beach. A healthy 5K or 10K done either running, walking or strolling, this 4th of July celebration gives you the opportunity to take in the scenic and fun trails while enjoying the beauty of the area. The race ends at the Tahoe Vista Recreation Area, offering a superb chance to jump in and enjoy some swimming time. The race begins at 8:30 a.m. at 6600 Donner Pass Road in Tahoe Vista. The entrance fee is $35. 
4th of July at Zephyr Cove Beach
Considered a favorite way to ring in Independence Day by many in South Lake Tahoe, Zephyr Cove's 4th of July celebration is certain to be a festive occasion. There will be a beer garden open from 9 a.m. to 5 p.m. with a DJ beginning at 10 a.m. The Sunset Bar & Grill will be offering tasty food treats as well as specialty frozen drinks. There are also powerboats, standup paddleboards, personal watercraft, kayaks and beach toys available to rent to help make your day that much more fun. Parking costs $40 and is open at 6:30 a.m.
Take a look at our Daytime and Nightlife sections to learn about other fun events happening during the 4th of July celebration and all summer long.
Top photo by Anthony Roberts on Unsplash.