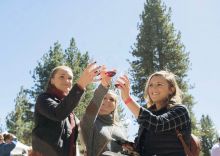 It's that favorite time of year again around Lake Tahoe. The leaves are turning their sherbet colors. The temperatures are making their dip on the thermometer. The tips of the mountains have been kissed with snow. Maybe even more important for many people – it is time for FOOTBALL!
With football season upon us, the opportunity to come together to appreciate our favorite teams and cheer them on with glee is upon us. If you know anything about Tahoe locals, football season is just as important for many as the first sight of snowfall.
Enjoying the pleasure of supporting your favorite team with like-minded people is easy at these 10 great locations ...
Rookies Sports Bar & Grill: Rookies in Incline Village is a favorite for locals. With 33 HDTVs there is ample opportunity to see the game you are looking for. Beyond the restaurant and bar, there are 15 slot machines, a pool table and live music to help entertain you. 
Emerald Bay Bar and Grill: Before the days of Emerald Bay Bar and Grill, this was the home of Brothers. With the change in ownership and name, the place also received a facelift that sports fans will appreciate. With enough televisions to make everyone happy and an open atmosphere, Emerald Bay Bar makes it easy to see the TV while enjoying their happy hour drink specials and famous $2 tacos and beef sliders. They also offer a yummy Chili Verde weekend breakfast and a Steak & Shrimp Sunday dinner that is good enough to write home to Mom about.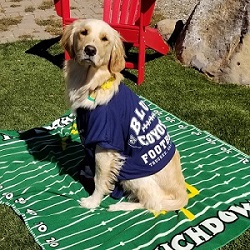 Blue Coyote: A longtime favorite for locals in Truckee, Blue Coyote has been keeping sports fans excited since 2002. With 24 flat-screen HDTVs and 13 beers on tap, its easy to see why they are a favorite sports bar. What really sets them apart, though, is their scrumptious pizza, giant burgers and delicious salads. During the football season they open at 10 a.m. on Sundays to help keep your priorities where they belong (11:30 a.m. other times of year).
The Grid Bar & Grill: A hotspot in Kings Beach, The Grid has a long history as a gathering place. Beyond their flat-screen TVs, which are perfectly placed for keeping sports fans copacetic, they keep guests entertained with live music when the games are over. The Grid offers a well-priced food menu and bar that pairs well with any game.
The Blue Agave: If you are looking to watch the game and find yourself in Tahoe City, a fantastic option is The Blue Agave. One side of this huge Mexican restaurant is completely dedicated to watching the game. They have huge televisions in key locations throughout the bar area, making it quite the festive scene when your team is winning. To help keep hunger down, they have a free chips and salsa bar.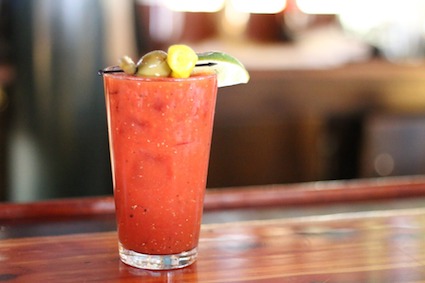 Cold Water Brewery & Grill: Located in South Lake Tahoe, Cold Water Brewery takes enjoying your favorite game up a notch. The beers are incredible. The food is to die for. And the Sunday Build Your Own Bloody Mary Bar is the icing on the cake. To make things even better, their beer is created in a seven-barrel brewery that brews more than 200 gallons of beer per batch. They also offer five gigantic TVs and a full-service bar.
Audibles Sports Bar, Grill & Gaming: With their motto of "Changing the play on food, gaming and beer," it is safe to say that Audibles Sports Bar is doing everything in their power to create an excellent location to watch the game. Considered a premier sports bar for the South Lake Tahoe area, Audibles also offers fun, unique menu items like their Lambeau Fries, created out of curly fries smothered in melted cheese and smoked bratwurst, or their Cactus League Veggie Burger, a black bean patty topped with field greens, roma tomatoes, avocado, pepper jack cheese and their secret Audible dressing.
Pick 6 Sports Lounge: For those in South Lake Tahoe, a favorite place to watch the game is Pick 6 Sports Lounge. One reason for this is their excellent array of big-screen televisions. Another reason is their open, airy and welcoming ambiance. A third reason is that their kitchen stays open until midnight, an aspect that is a rare find in Lake Tahoe. 
The Rocker: If you are in Squaw Valley and need to find a place to watch your game, check out The Rocker. A spacious bar with a huge menu, The Rocker has a place for the kids to roam and play outside while you keep an eye on the score. The Rocker also offers two nights a week dedicated to football: Mondays and Thursdays. Enjoy great deals and big TV screenings of your favorite teams from 5 to 9 p.m.
FiftyFifty Brewing Company: If you love the luxurious combination of watching your favorite game at a brewery, then you are in for a treat in Truckee. An absolute favorite for many locals, FiftyFifty Brewing Company is the place to be, whether or not you are into watching the game. Their food is amazing, the beer is considered to be top-notch (they have 14 flavors to choose from), and the atmosphere is hard to beat.
If you are looking for something fun to do after the game, check out our Nightlife section. If doing something the next day is more your style, look at all the fun activities just waiting for you in our Daytime section.
Photos courtesy of Tahoe.com, Blue Coyote and Audibles.