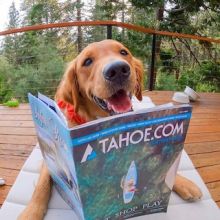 Lake Tahoe is known for outdoor adventure, from hiking and biking to backcountry adventures and aquatic experiences. This is no different when it comes to our faithful four-legged companions. Dogs love Lake Tahoe.
This is such a spectacular place for dogs that the Tahoe Dog is an actual title. Dogs that are bestowed this endearment are known for living life with the maximum of fun. Knowing how much fun my dogs have had through the years, I thought I would offer my top 10 places to play with your canine companion. Continue on to learn where to play in the sand, in the forest or with other pups here in Lake Tahoe. If you see that I forgot a worthy mention, please comment below.
1. Bijou Community Park, South Lake Tahoe
A giant park with a lot going for it, Bijou is outfitted with a sizeable dog park with dirt and bark flooring. It has areas for both big and little dogs, so it is easy to keep dog play organized to the appropriate size. Another great benefit of the Bijou Dog Park is the adjacent agility park that is perfect for the newbie or experienced pup. The park is outfitted with amenities like water for you and your dog as well as benches and picnic tables. A point of consideration: There is a Frisbee golf course in the near vicinity, so be careful if your dog is easily excitable about flying objects. Parking is free.
2. Tahoe City Dog Park, Tahoe City
Although Tahoe City Dog Park may be small in size, it is big for locals. Created with both grass and sand, the area is the perfect size for throwing the ball. Sandwiched between Fat Cat Bar & Grill, a baseball diamond and the Tahoe City Golf Course and located across the street from the lake, the dog park is perfectly situated to offer your dog a little bit of everything, especially if you're visiting the area when the golf course is closed and there are no baseball games going on. Parking is on the street and free. Water is available and there are places to sit. 
3. Lake Forest Beach, Tahoe City
A beach situated at the end of Bristlecone Street in Tahoe City, this is a gem that is often forgotten about. It's a quaint park, and there is a separate area for dogs and another for families. On the left is the section of park designated for dogs and includes an area to let your best friend run off-leash and swim. On the other side there are nicely shaded picnic benches, grills and sandy access to the water. Parking is free for Lake Forest Beach.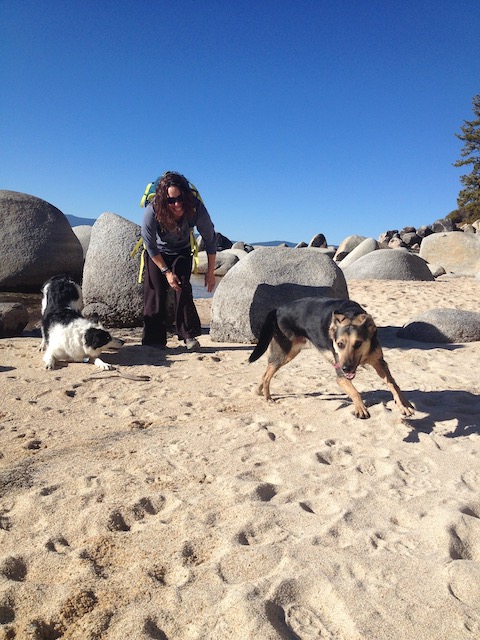 4. North Tahoe Regional Park, Tahoe Vista
Tahoe Vista's North Tahoe Regional Park is fantastic for spending the entire day outdoors. With a huge expanse of area to enjoy, including a ropes course and dog park, there is ample space for the whole family to have fun. The dog park is grass and makes for a comfy place to enjoy time with your pup while appreciating the serenity of the giant trees towering overhead. The amenities are plentiful with a variety of picnic tables to choose from, water, a big kids and little kids outdoor gym area as well as sledding in the winter. Parking costs $5. 
5. Thomas F. Regan Memorial City Park, South Lake Tahoe
If you are looking for simple access to Lake Tahoe, then Thomas F. Regan Memorial City Park is a great bet. Situated right off of highways 50 and 89 in South Lake Tahoe, this park offers ample free parking and a beautiful strand of sand to enjoy. You'll find a large grass field, a designated dog-only area allowing for off-leash playtime as well as benches for enjoying the surroundings, public restrooms and water. 
6. Nevada Beach, Zephyr Cove
A dog area in Zephyr Cove that offers one of the most pristine sand beaches on Lake Tahoe, Nevada Beach is a place worthy of putting on the bucket list, especially for a dog. Complete with a campground, a huge selection of sitting areas, a giant swath of sand beach, a beautiful grove of fir trees and incredible views, there is plenty to discover at Nevada Beach. But maybe what is most special for our four-legged companions is the area designated just for dogs, allowing them to swim carefree and off-leash. The park also offers public restrooms and access to potable water. Parking is $10. 
7. Van Sickle Bi-State Park, South Lake Tahoe
Enjoying the benefits of both California and Nevada, South Lake Tahoe's Van Sickle Bi-State Park is an incredible offering in the form of single-track trails. With meandering paths through stellar forests, Van Sickle is an incredible opportunity to quickly become immersed in Lake Tahoe's unique beauty. The trails are well marked and offer a little something for all energy levels. In addition to regular hiking trails, there are trails for horses, something to be mindful of for your pup. In the winter there is sledding available. There are public restrooms and free parking as well.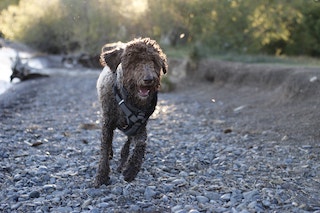 8. Eagle Falls, South Lake Tahoe
If you are looking for a quick and easy way to get into Tahoe's forests and feel her beauty, look no further than Eagle Falls. Located across from Emerald Bay, this is one of the most beautiful areas in all of Lake Tahoe. If you visit during snow runoff, the waterfalls are like no other and only lend to the impressiveness of the area. With such beauty, it is no surprise that this is a fantastic place to take your four-legged best friends for a stroll. If you are looking to go farther, the trail continues on another 1.8 miles to Eagle Lake, a stupendous place for your pup to swim. Parking for Eagle Falls is free if you can find a spot along Highway 89. Parking is $5 if you utilize the parking for Emerald Bay State Park.
9. Kiva Picnic Area, South Lake Tahoe
Situated in South Lake Tahoe, Kiva Picnic Area is one of those places that remains on Tahoe's best-kept-secret list despite its incredible views and lack of crowds. The park offers plenty of picnic benches as well as public restrooms and free parking (though spots are limited). Dogs should remain on leash as there is no designated dog area. 
10. Sand Harbor, Incline Village
If you are looking for spectacular beauty, then Sand Harbor is deserving of your attention. The park is blessed with some of the most beautiful beaches that Lake Tahoe offers, and the area is also home to some of the best views. Sand Harbor is a giant park that offers a lot for the visitor including a visitors center, designated trails, giant trees, picnic tables, public restrooms and even an outdoor concert or two in the summer. Many visitors and locals feel that Sand Harbor has a magical quality to it, maybe due to all that it encompasses. Parking is $10 for Nevada and California residents or $15 for out-of-state visitors.
For more information, visit our Beaches and Running, Walking and Hiking sections. After enjoying a fun day out with your canine companion, enjoy a fantastic event. Learn more in our Daytime and Nightlife sections.
Pictures from Shanie Matthews and Tahoe.com