TCO Fishing Report 10/12/20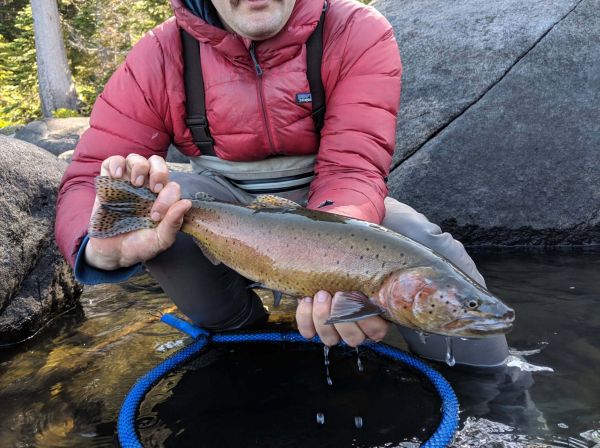 Boca Reservoir
Independence Lake
Jackson Meadows
Little Truckee River
Prosser Lake
Stampede Reservoir
Truckee River
With shorter days and cool weather trout will be very active in the coming weeks and fall remains one of the best times to fish here in the sierras. The window for good times to fish will continue to increase and and anglers can find successful fishing throughout the entire day now. Those using streamers to imitate various bait fish, especially sculpins, are having increasing success as fish get more aggressive and look to gain additional calories for the winter months. Nymphing using both a euro set-up or indicator remains the best bet to consistently put fish in the net. We are now mostly seeing the bugs of winter and BWO's, Midges, Stoneflies as well as egg and worm patterns will be on the menu for the next few months. The October Caddis continue to hatch off, albeit sporadically. What these bugs lack in volume they make up for in size and thus caloric value. Using these oversized caddis adults with a dry dropper set up will be a great way to get your dry fly fix in the evenings when these bugs are most active. 
The flows on the Little Truckee have come back up after last weeks dam inspection at stampede reservoir and it will once again be ethical to fish out here. However, it will always be considered unethical to fish for actively spawning fish and anglers fishing here should take great care to avoid fishing for or around these fish. Furthermore, please take caution when wading as to not step on these fishes redds to insure future generations of wild trout on the Little Truckee. If you are unsure what to look for when trying to avoid these fish please give us a call and we can further explain a proper policy for fishing around these fish for the upcoming weeks.
Lake fishing also continues to improve daily and we've got some serious still water tricks up our sleeves, please give us a call or stop in to talk about your options for our abundance of still water fishing opportunities. Got a specific species You've always wanted to target on the fly? Let's help you check it off your bucket list! 
Tight Lines,
-TCO Staff
(530)563-5119