Truckee – May 9 Fishing Report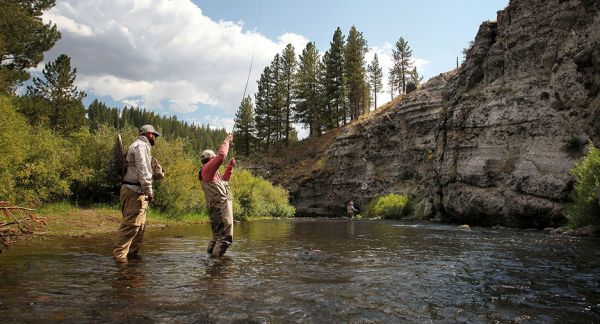 Little Truckee River
Truckee River
REMEMBER THAT ON APRIL 28TH ALL CREEKS AND RIVERS WILL BE OPEN UNLESS STATED OTHERWISE BY DFW REGS. (TAHOE TRIBS FOR EXAMPLE)
DON'T FORGET TO PINCH THOSE BARBS, CATCH & RELEASE ONLY NOW!
NOTE FOR THE WEEK: MODERATE FLOWS PRIMARILY TO RELEASES FROM TAHOE! NICE TEMPS FOR THIS WEEKEND COMING UP BUT WE WILL SEE SOME COLDER TEMPS AND PRECIP FOR THE BEGINNING OF THE WEEK. Cold mornings still so dress accordingly. GOOD DRIFTS ARE ESSENTIAL TO SUCCESS! Early Spring fishing can be good so keep at it!
TRUCKEE RIVER: Trout Creek to Stateline barbless Flies and lures only. NO BAIT! NO SCENTED LURES! CATCH & RELEASE ONLY NOW!!! 1000 FT BELOW TAHOE CITY TO TROUT CREEK IS CLOSED ALWAYS, AND AFTER THE 28TH DOWNSTREAM TO TROUT CREEK WILL OPEN ALONG WITH MOST OF YOU FAVORITE STREAMS AND CREEKS!
FLOWS: Tahoe City Truckee 490 (BELOW DONNER CREEK) 778 CFS, Below Martis Creek 962 CFS (Glenshire), Below Prosser Creek - CFS, Boca 1100 CFS, Farad 1160 CFS-water temps: 42-45 DEGREES!
BIG TRUCKEE: Flows are still running a bit high but water clarity is pretty good. Use Your SPRING and HIGH-WATER Techniques. Trout this time of year, with the water flow being HIGH and COLD, will be found in the usual places such as seams behind large boulders, back eddies, edges of big pools, or on the edges that drop into deeper water. Get proficient with your nymphing techniques because the payoff could be one of the elusive big trout that reside in the T. From Glenshire downstream to Stateline, flows are a little high and streamer fishing can be effective. Fishing streamers along edges can elicit some exciting action as some big trout will be looking for an easy meal. Don't discount Crayfish patterns as they are always a meal for a large trout. Fish them as if they are a traditional streamer in a fleeing or wounded fashion as they're an easy target for large trout! 1x, 2x for streamer rigs, leaning more towards the 2x. If the streamer gig isn't your thing don't worry as there are still plenty of trout being caught on nymph rigs. Sculpins, Darker Stones, March Browns, Green Drakes in crawler stages and now more prevalent hatches of BWO's, Baetis, and Midges are all present on the Trout's diet this time of year. For the purist, one can sit on the banks and wait for some nice fish to rise to Baetis, BWO's, Midges, and intermittent March Brown's still coming off. Big stimi's worked along the edges of deep water (Upper Hirshdale) are taking some fish too. On another note let's all remember proper ethics and C&R techniques as temps have dropped. Let's not play trout to exhaustion and handle minimally or not at all. Remember, there will be days where you'll do great and the next you'll get your you know what handed to you, it's the Truckee. To learn the river exponentially, hire one of our local guides. It's worth the money if you fish this occasionally or want to learn it's secrets! Great list of local guides on bottom of page!
LITTLE TRUCKEE RIVER: NO BAIT!!! NO SCENTED LURES!!! PLEASE BE CONSIDERATE OF OTHER ANGLERS AND THEIR SPACE! PLEASE DON'T FISH ONE SPOT FOR TO LONG. CATCH & RELEASE PLEASE!!!
FLOWS: 106 CFS!
LITTLE TRUCKEE: With FLOWS going down to a LOWER rate of 106 CFS on this stretch it will fish a little tougher. Light leaders now and stealthy approaches will be required. Trout here have not seen a break from anglers all year because of the lack of wintery weather so please be conscience of proper C&R techniques! Access is OPEN here now and with flows up fish can be found everywhere throughout the system. For those you don't know, please leave spawning Rainbows unmolested! They will be on or around their redds, so they shouldn't be too hard to spot. Non-spawning Trout here will be feeding on a steady diet of Midges in the morning and then turning their attention to BWO'S, Baetis, Winter Stones, and Midges again in the evening. Cloudy days can produce some great dry fly activity here! So, have all stages of these bugs in your box. The rule of thumb here has been 5x-6x depending on the situation. Go to patterns that always work when the water is up is San Juan's, Gummy Worms AND Glow Bugs.