Truckee Fishing Report - July 7th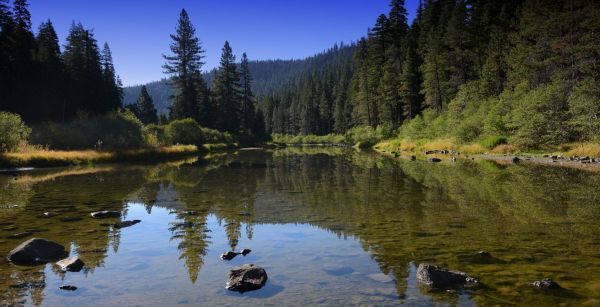 Little Truckee River
Truckee River
WATER CONDITIONS
The Truckee River is flowing from Lake Tahoe in what we consider to be a medium-cold flow. Anglers will find that the river is wadable in all areas right now. The recent cold weather we received has mad for some great hatches this week. Water temperatures are perfect at about 60 degrees. The tahoe city section is flowing at 332 CFS, glenshire area is at 359 CFS, and the stateline area at 502 CFS.
FLOWS:Tahoe City 332CFS, Glenshire 359 CFS, Farad 502 CFS
TIPS FOR THE WEEK
The fish have definitely moved to the faster water for the summer. Anglers tight line nymphing in the fast water are having the most success right now. Heavy point flies with more natural smaller bugs above them are working great. Anglers should focus on the white water coming off of rocks and logs.
SUGGESTED FLIES
Jigged TB Twenty Inchers, Slim Jim Jig Olives, Jigged Hares Ear, or a Soft Spot Jig. All of these in a size 12, 14, or 16.
LITTLE TRUCKEE RIVER
WATER CONDITIONS
The Little Truckee River has consistent flows around 140 CFS between Stampede and Boca reservoirs. Above stampede it is flowing around 75 CFS. Water levels aren't as high on the Little Truckee River, so the warmer weather coming will bring increased water temperatures. Morning fishing will be best for the upcoming week.
FLOWS: Between Boca and Stampede 140 CFS
TIPS FOR THE WEEK
Anglers should fish a dry dropper with a two foot drop for best results on the little truckee river. Anglers can use small spinners and spoons in the upper little truckee river. Just remember, between Boca and Stampede it is catch and release only.
SUGGESTED FLIES
EC Caddis Size 16, Elk Hair Caddis Size 18, Missing Link Size 18, Silveys Yellow Salley, Parachute Adams UC Purple Size 18
Shop flies and more online with us here!