Truckee Fishing Report - July 2023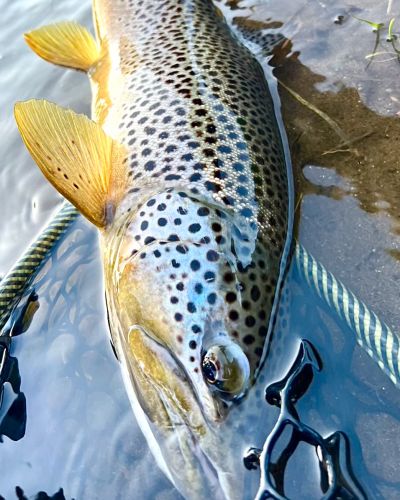 Little Truckee River
Truckee River
Truckee River
Water Conditions
We've seen a significant drop in flows on the Truckee River the past two weeks making for some great fishing. Fish are moving into the faster water at the heads of the pools behind rocks and structures. Look for the walking speed water with depths of 3 to 8 feet. Flows on the Truckee River are around 254 CFS in the town of Truckee, 449 CFS in Glenshire and 798 CFS at the stateline.
Tips for the Week
A few different tactics to choose from this week on the Truckee River. There is a morning streamer bite on the strip with natural color baitfish patterns. Indicator nymphing or tight line nymphing are also both good options during the day. As the afternoon progresses, look for some fish to be rising mid pool.
Suggested Flies or Lures
Sculpzilla in Tan or Olive, Pats Rubber Legs, Jigged Squiry Worms, Pheasant Tail Nymphs size 16, Green Rock Worms size 14, Fox Pupa size 16 or Green Drake Nymphs size 14
 
Little Truckee River
Water Conditions
On the Little Truckee River, the flows have calmed a bit and we are about to come up on the best dry fly action of the year with PMD hatches just starting up. Time to break out your dry fly rod and 6x tippet on the Little Truckee River. Flows are currently at 155 CFS on the Little Truckee River.
Tips for the Week
Dry flies, small nymphs, and dry/dropper combos will all be effective on the Little Truckee right now. Stealth is the name of the game on this stream so longer leaders and finer tippets will get the job done here.
 
Suggested Flies
Burks Pale Morning Dun, Quigleys Cripple Mayfly PMD, Parachute Blue Winged Olive, Hi-Vis PMD, Two Bit Nymphs size 18, and Small Midges