Truckee Fishing Report - August 1st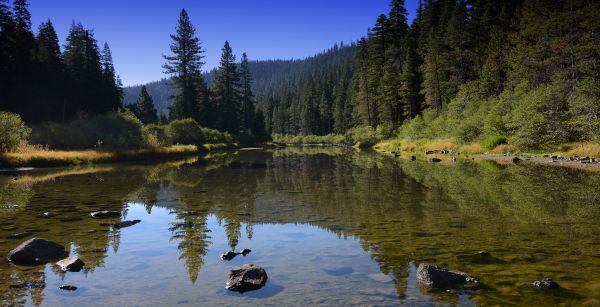 Little Truckee River
Truckee River
TRUCKEE RIVER
The Truckee River is fishing great. There are still good flows coming out of Tahoe City. Recent thunderstorms have been keeping the evenings cooler, but in the afternoons, the water temperatures can reach the high 60s so anglers should focus on finding the cooler, deeper water. Anglers are mostly nymping during the day with pale morning duns, yellow stones, caddis, and caddis pupa. Evening hatches are primarily caddis, yellow sallies, and golden stones. Anglers could also try using crayfish this time of year.
FLOWS: Tahoe City 297 CFS, Glenshire 302 CFS, Boca Confluence 550 CFS, and Farad Exit 592 CFS
RECOMMENDED GEAR:
Bugs: PMDs, Multiple species of Caddis, Yellow Sallies, Golden Stones, Midges, Sculpins, and Crayfish
Gear:  9′-11′ 5-7wt rod with 9′-12′ 4x-5x leader
LITTLE TRUCKEE RIVER
Fish are very picky on the Little Truckee River right now and it may take several fly changes to get a bite. Throughout the day the Little Truckee is consistent with pale morning duns, light cahills, and caddis. Anglers fishing the Little Truckee inlet by Boca reservoir will also see a good white wing surfer hatch. In the evening, spinners and caddis are prominent and anglers should continue to use delicate presentations and long leaders.
FLOWS: 193 CFS
RECOMMENDED GEAR:
Bugs: BWOs, PMDs, Light Cahills, Small Caddis, Small Crayfish
Gear:  9′-10′ 4-6wt rod with 9′-12′ 4x-6x leader