Truckee Fishing Report - April 28th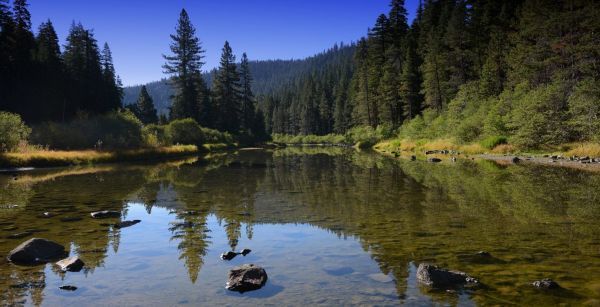 Little Truckee River
Truckee River
WATER CONDITIONS
Water flows continue to fluctuate due to the recent precipitation the area received. The Upper section of the Truckee River is flowing around 200 CFS, the Glenshire section is flowing around 365 CFS, and near the state-line it's flowing around 950 CFS.
FLOWS: Tahoe City 205 CFS, Glenshire 365 CFS, and Farad Exit 950 CFS
TIPS FOR THE WEEK
A few regulation reminders for everyone getting on the water this weekend. On the last Saturday in April, anglers can fish bait from Tahoe City to Trout Creek in Truckee with a five fish no size limit. From Trout creek to Prosser creek, it's fly only, catch and release. And from Prosser creek to state line Nevada, anglers can use artificial lures and flies with barbless hooks and carry a two fish limit. Anglers cannot use bait from Prosser Creek to state-line.
Recommend techniques for anglers bait fishing are to use salmon eggs, worms bounced on the bottom, or small spinning lures on a slow retrieve.
For the fly anglers on the Truckee River, indicator nymphing is still your best bet with plenty of split shot to keep the bugs near the bottom. There is a decent streamer bite, but remember to cover some ground to find the fish that want to play. There are a few fish rising here and there, so keep an eye out for that and don't wade out far as the fish are on the banks in tight with the higher flows.
SUGGESTED FLIES
Sculpin Patterns, Black Pat's Rubber Legs, San Juan Worms, Pheasant Tails #16, March Brown Dries, Olive Stimulators, and Parachute Adam's #18
LITTLE TRUCKEE RIVER
WATER CONDITIONS
Flows are good on the Little Truckee River. Anglers can expect flows to be around 134 CFS between Boca and Stampede. Above stampede, flows are running a bit higher.
FLOWS: Between Boca and Stampede 43 CFS, Above Stampede 160 CFS
TIPS FOR THE WEEK
Angler should be small indicator nymphing on the Little Truckee at this time. Small midge dries and other small flies on 6x tippets are working the best.
SUGGESTED FLIES
Rainbow Warriors #18, Griffins Gnat #20, Blue Winged Olive Silhouette Duns #18, and Black Elk Hair Caddis #16