Rivers Fishing Report - Aug 23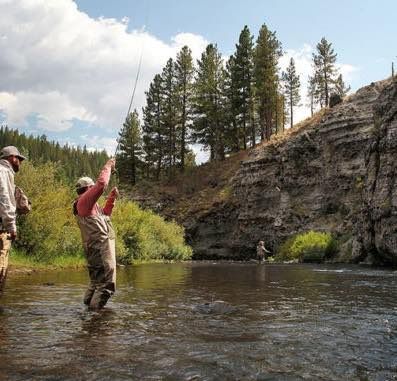 Little Truckee River
Truckee River
TRUCKEE RIVER
Fantastic fall flows for the Truckee means that the whole river is fishing very well and good angling isn't just limited to the lower river as is typical for this time of year! Fishing will be best at first light until mid-day and then again in the evening using caddis dry flies. Nymphing will remain the best for the most consistent action throughout the day or when a hatch isn't present. Some anglers also having some success using streamers and we expect this bite to pick up as fall progresses.
FLOWS:
Tahoe City:278 cfs
Glenshire: 340 cfs
Boca confluence: 642 cfs
Farad: 679 cfs
RECOMMENDED GEAR:
Rod: 9-10 ft. 4-6 Wt.
Leader/Tippet: 9-12 ft. 4-5x
Flies: Golden Stoneflies, PMD's, BWO's, Little Yellow Sallies, Midges, Caddis (Rhyacophila),Grasshoppers, Black Ants, Sculpins or Crawdads
*LITTLE TRUCKEE RIVER
Great flows on this tailwater fishery provide cool water throughout the heat of the day making for consistent hatches all day. Try PMD's mid-morning, yellow sallies or hopper droppers mid-day and the reliable caddis once the sun sets over the hill. If no hatches are present then nymphing the faster water with PMD's, BWO's, Midges, Caddis pupa, Small stoneflies or worms will work best.
FLOW
99 CFS
RECOMMENDED
Rod: 9-10 ft. 3-5 Wt.
Leader/Tippet: 9-12 ft. 5-6x
Flies: PMD's, Midges, Caddis, BWO's, Grasshoppers and Black Ants SEASONAL LAKE DAVIS:
Great morning shore fishing here for spin-fisherman and fly anglers wading the flats sight fishing. Come mid-day the lake warms up and fish dive into deeper water making it best for trollers or spin/flycasters on a float tube or boat. Trolling needlefish worms with a flasher or small rapalas has been working well for spin-fisherman and stripping leech patterns or small streamers for flycasters has been best.
RECOMMENDED GEAR:
Lures: Needlefish, worms/flashers, apex, rapalas, spinners.
Flies: Jay Fair's wiggle tails, Wolly Buggers, Callibaetis dries and Caddis