Lakes Fishing Report - May 13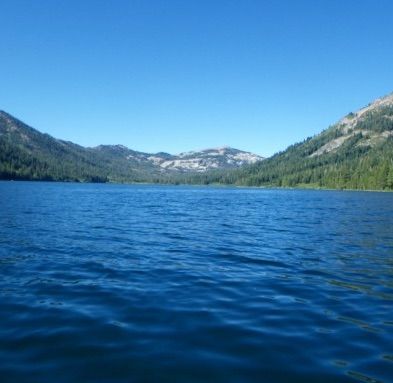 Boca Reservoir
Little Truckee River
Prosser Lake
Stampede Reservoir
Truckee River
*Designates best areas to go fishing now.
DONNER:
With a recent plant of trout here shore fishing here remains steady and will also help bring in some of the opportunistic mackinaw looking for an easy meal of planters. Shore anglers should use powerbait or worms off the bottom or try larger spoons to target the macks. Trolling remains spotty here with a few macks being caught in 40'-60' of water and even a few browns showing up near the shoreline when a faster troll speed is used. Kokanee are being found mostly near china cove, however most of these fish are small which is typical for this lake. 57% Of Cap.
BOCA:
Boca reservoir remains low in anticipation for work on the dam which should start any week now. For now anglers are able to fish off the dam and during low water is likely the best bet to find good fishing. The L.T. inlet also remains steady; however it will be restricted to special regulations. The boat ramp is still high and dry and launching can only be done off shore. The boat traffic here remains very light with few reports back on the fishing.
STAMPEDE:
The two roads to stampede are now accessible and boat trailers can go either way although the route across the dam is easier going for large trailers. Trolling for kokanee here has been very good with fish being found in 10-30 feet of water and with schools often being found not far from the boat ramp. Anglers looking for trout should try towards the inlets as the rainbows stage for spawn. 92% of cap.
PROSSER:
Prosser reservoir remains low with no easy explanation as to why. Fishing here still remains good and shore fishing has been best around dam or at the Prosser Creek inlet. Some great early season small mouth have already begun to show up and it is shaping up to be a stellar year for this species!Lakes Basin:
TRUCKEE RIVER
As anticipated, the Truckee River is still running high. However, most of the water is coming from dam releases making the river run clear. The main game is still mostly nymphing or tossing streamers. With the continuing large water, big "attractor" nymphs like rubberlegs or worms have been best. Pheasant tails in a size 12-14 also do a good job imitating the march browns. Streamers have been producing some of the biggest fish of the year so far and sculpins in olive or black should definitely so be in your repertoire. The upper river from Tahoe City to Glenshire has been fishing best, but the entire CA side of the river is still a option!
FLOWS:
Tahoe City: 811 CFS
Glenshire: 2,070 CFS
Boca Conf.: 3,440 CFS
Farad: 3,760 CFS
*LITTLE TRUCKEE RIVER
With good access to the entire river and flows that are high but still very fishy, the Little Truckee is a great springtime option for anglers looking for a technical fishery! Mostly nymphing but having your dries and streamers with you is always a good idea here so one can adapt to any situation given. High water means limited holding water for these fish and anglers should seek the few slow deep runs around and fish them using a stealthy approach often trying multiple techniques in the same run for best results.
FLOW
894 CFS
PRYAMID LAKE:
As the fish now remain in shallow water and paired up for spawn this can be a very fun but also frustrating time to fish here as you can see them but they can be very tight lipped. Please avoid targeting actively spawning fish here so they can eventually establish a self-sustaining population. Best fishing during mornings and evenings as it warms to the mid 80's by noon. Both stripping and indicator fishing here remains good and we always recommend having a variety of tackle to accommodate any situation. Two weeks left in the season here!