Lakes - Fishing Report, July 19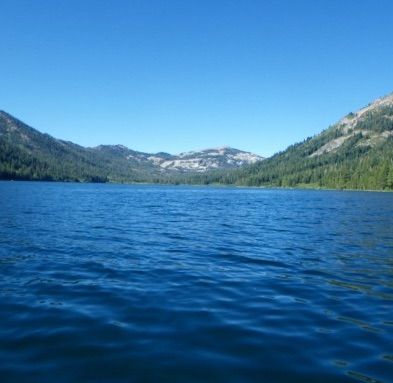 Boca Reservoir
Donner Lake
Jackson Meadows
Prosser Lake
Stampede Reservoir
*Designates best areas to go fishing now.
DONNER:
Great shore fishing here as lake was planted by The DFG two weeks ago and lake levels remain near 100 percent! Trollers finding mackinaw near bottom in anywhere from 80-100+ feet of water and using large plugs, flatfish, rapalas or swimbaits has been working well for them with the best window being early morning. Kokanee remain small here and aren't often targeted making fishing pressure for them light for the angler willing to look past their small stature. For shore anglers powerbait, spinners, kastmaster and all the usual suspects have been consistent producers with the best window also being in the mornings. 98% off cap
RECOMMENDED GEAR:
Shore Fishing: Powerbait in Chartreuse or Rainbow, floating worms off bottom, small spinners or spoons.
Trolling: lyman plugs, rapalas, flatfish or top lining needlefish. Jigging P-Line laser minnows, buzz bombs or crippled herrings.
BOCA:
Shore fishing at Boca has been great and anglers are now able to access the western side of the lake via the Boca Dam Road. Bait fishing floating a worm or using Powerbait is providing steady action throughout the day. Trollers are finding steady action for trout with very little boat traffic. Most boat anglers are top lining using various lures such as needlefish¸ apex, rapalas or even flashers and a worm. Lake level dropping slowly. Low lake level due to construction on dam.
RECOMMENDED GEAR:
Shore Fishing: Powerbait or worms, Kastmasters in gold or rapalas.
Trolling: Flashers and worm, gold Needlefish, Rapalas and Apex lures. Jigging buzz bombs around dam
STAMPEDE:
With this lake at maximum capacity and a great population of kokanee this year this lake has been the top producing lake of the year for boat anglers and we expect to see it stay this way through fall. With some bigger kokanee up to 17 inches now showing, anglers are recommended to release the smaller ones and hold out for the large fish to fill their limits which shouldn't be a problem given the great fishing here. Shore fishing for trout has been best in the mornings and with the high lake levels anglers are able to spread themselves out increasing the chance of not seeing another angler all day, a rarity for this time of year! The smallmouth bass fishing remains very steady here as well and will be best from mid-day through the evening. 100% of Cap.
RECOMMENDED GEAR:
Shore Fishing: big spoons in gold or silver, large Rapalas or floating worm off bottom.
Trolling: top lining needlefish, humdingers, apex or Rapalas. Downrigging lyman plugs, flatfish, broken back Rapalas. Jigging P-Line laser minnows or buzz bombs.
PROSSER:
Prosser has been good for shore fishing for trout and smallmouth. The best areas to find trout would be around the Prosser Creek inlet or near the dam in the mornings and bass will be found along any rocky shoreline or the dam and are best fished mid-day through the evenings. Very high lake levels here should help spread out anglers and keep this lake fishing well through the fall! 98% of cap.
RECOMMENDED GEAR:
Trout: worms or Powerbait, spinners in gold or silver, Kastmasters.
Bass: soft plastic jigs, rebel crawdads, drop shotting finesse baits or a jig under a bobber
Lakes Basin:
TRUCKEE RIVER
With flows steadily dropping in the upper river the lower river (Glenshire Dr. to Stateline) is now fishing best. Great hatches coming off throughout the day with the most predictable of these being caddis in the late evening. Expect PMD's mid-morning, Yellow Sallies mid-day, the occasional Golden Stone and a variety of terrestrials including Grasshoppers and Ants. Nymphing the deep runs has still been the best bet to tie into something large and a Golden Stonefly nymph down to a caddis pupa or mayfly nymph has been best.
FLOWS:
Tahoe City:68.9 cfs
Glenshire: 249 cfs
Boca confluence: 539 cfs
Farad: 638 cfs
RECOMMENDED GEAR:
Rod: 9-10 ft. 4-6 Wt.
Leader/Tippet: 9-12 ft. 4-5x
Flies: Golden Stoneflies, PMD's, BWO's, Little Yellow Sallies, Midges, Caddis (Rhyacophila),Grasshoppers, Black Ants, Sculpins or Crawdads
*LITTLE TRUCKEE RIVER
Great mid-summer flows on the Little Truckee should make for some excellent fishing using both dries and nymphs! The main bugs will PMD's, Midges and Caddis and having a good selection of all life stages will pay off here. As always using a stealthy approach, light tippet and an appropriate fly selection is important as fish see a lot of angling pressure on this small tailwater. With higher than average flows for this time of year anglers should spread themselves out here to find fish hiding in non-typical runs including riffles, undercuts, and even shallow tail outs when hatches are in full force.
FLOW
140 CFS
RECOMMENDED
Rod: 9-10 ft. 3-5 Wt.
Leader/Tippet: 9-12 ft. 5-6x
Flies: PMD's, Midges, Caddis, BWO's, Grasshoppers and Black Ants
SEASONAL LAKE DAVIS:
Great morning shore fishing here for spin-fisherman and fly anglers wading the flats sight fishing. Come mid-day the lake warms up and fish dive into deeper water making it best for trollers or spin/flycasters on a float tube or boat. Trolling needlefish worms with a flasher or small rapalas has been working well for spin-fisherman and stripping leech patterns or small streamers for flycasters has been best.
RECOMMENDED GEAR:
Lures: Needlefish, worms/flashers, apex, rapalas, spinners.
Flies: Jay Fair's wiggle tails, Wolly Buggers, Callibaetis dries and Caddis.