Lakes Fishing Report - August 1st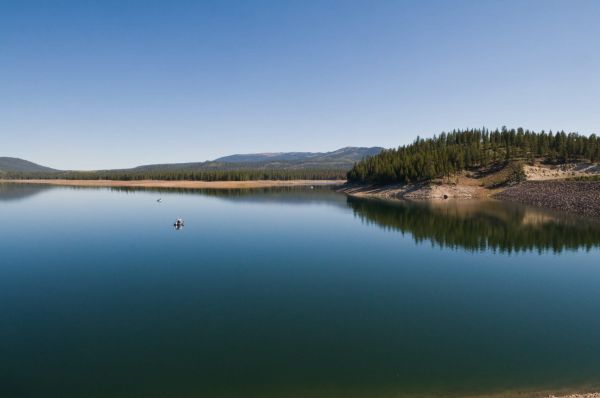 Boca Reservoir
Donner Lake
Jackson Meadows
Prosser Lake
Stampede Reservoir
DONNER LAKE
With the warm weather, boat activity is high and makes trolling in the afternoons very difficult, so anglers should try to get out there in the early mornings or late evenings. Anglers have been jigging for macks in the middle of the lake or by China Cove. Anybody Kokanee fishing should focus on the east side of the lake around 45 to 50 feet in depth. For Kokanee, try using small hoochies and wedding rings behind dodgers. Donner Lake is currently at 98% capacity.
BOCA RESERVOIR
Boca reservoir is filling back up. During the afternoons, it can be difficult to fish due to water sports activities, so try fishing in the mornings or evenings. Kokanee are biting in the early morning and can be found around 20 to 30 feet in depth. Anglers should use dodgers with pink, purple, or orange hoochies for Kokanee. Anglers fishing the Little Truckee inlet side should use Kastmasters, humdingers, or cripplers. Boca is currently at 43% capacity.
STAMPEDE RESERVOIR
Kokanee are starting to stay in deeper water. Anglers should focus on trolling for Kokanee around 40 to 50 feet in the mornings and around 70 to 80 feet in the evenings. Smallmouth bass fishing has been consistent near logger campground and anywhere on the east side of the lake. Shore anglers fishing for trout should try powerbait, worms off the bottom, kastmasters, or rapalas.  Watch for evening thunderstorms here because this area receives frequent lightning strikes. Stampede Reservoir is currently at 59% capacity.
PROSSER CREEK RESERVOIR
Shore anglers at Prosser Creek Reservoir are reporting good size trout using powerbait or worms with a marshmallow. Some good tackle options from shore to try are panther martins, rapalas, or blue fox spinners. If anglers are looking for Smallmouth bass, try fishing near the dam or the east shore of the reservoir. Prosser Creek Reservoir is currently at 72% capacity.
JACKSON MEADOWS RESERVOIR
Jackson Meadows Reservoir is still a great option to beat the weekend crowds. Shore anglers have been reporting nice size trout off the dam and near the west side of the lake.  Anybody trolling should use small brown or rainbow trout rapalas. Trolling for the best trout is around 30 to 40 feet in depth. Anybody shore fishing should try powerbait, worms, small lures, or kastmasters.