Lakes Fishing Report - April 11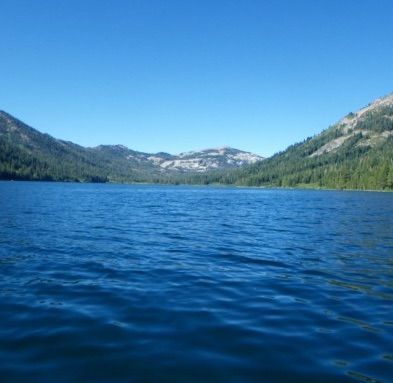 Boca Reservoir
Donner Lake
Little Truckee River
Prosser Lake
Truckee River
*Designates best areas to go fishing now.
DONNER:
Donner remains steady for fishing off shore but you are currently still not able to launch a boat as the launch ramp remains closed despite it getting plowed last week, We can only expect to see this open in the next week or two given the mild weather in the forcast. Shore anglers mostly catching hold over rainbows as the mackinaw bite remains spotty. 50% Off Cap.
RECOMMENDED GEAR:
Lures: Kastmasters, Rapalas, Large spoons and spinners.
Bait: Floating Worms off bottom, Powerbait in chartreuse or salmon eggs
BOCA:
Boca reservoir is being kept at a minimum lake level this spring as they prepare to work on the dam early fall. With the raised flows on the Little Truckee pushing in sediment from the old lake bottom and low water levels here the lake is especially muddy this spring. The best tactics for shore fishing will be floating a worm off the bottom or using chartreuse powerbait. If lure fishing sticking with gold spinners or kastmasters has been best.
RECOMMENDED GEAR:
Kastmasters in gold, Spoons, Spinners, Worms or Powerbait.
STAMPEDE:
Stampede remains inaccessible due to snow on both Hobart Mills Rd. and Stampede Dam Rd. - 88% of cap.
PROSSER:
There is now limited open water at Prosser. Access will still be limited, however, as Prosser Dam Rd. remains unplowed passed the pavement meaning there will be some walking involved. No report on fishing conditions but historically ice out is a great time to fish for trout here! Lake Level - Partially Frozen. RECOMMENDED GEAR:
Worms, Salmon Eggs or Powerbait. Kastmasters or spinners in gold, Rapalas, Gitzit Jigs.
Lakes Basin:
TRUCKEE RIVER
The Truckee continues to go up in flows this week as the snow levels begin to shrink in the mountains and feed our streams. The fishing, however, still remains good despite the start of the run-off. The main game will still be nymphing, but the streamer game should not be overlooked as sculpin and crawdad patterns can put some of the biggest fish in the net this time of year!
FLOWS:
Tahoe City: 1,130 CFS
Glenshire: 1,930 CFS
Boca Conf.: 3,440 CFS
Farad: 3,750 CFS
RECOMMENDED GEAR:
9-10 Ft. 5-7 Wt. Rod with 3-5x Tippet
Flys: BWO's, Midges, Skwala Stones, Winter Stones, Worms, March Browns
*LITTLE TRUCKEE RIVER
Access is opening up for the Little Truckee and there have been reports of driving up to the Boyington Mill campground opening up some new options for anglers that was previously limited due to snow covering the road a majority of the winter. Flows have come up this week which should help spread some fish out into other runs not suitable during times of low water. We have also had reports of sediment at the inlet which should only be temporary as the rasied water levels are flushing the old lake bed downriver.
FLOW
780 CFS
RECOMMENDED
9-10 Ft. 4-5 Wt. Rod with a 9-12 Ft. 5-6x Leader.
Flys: Winter Stones, BWO's, Midges, Skwala Stones, Worms
PYRAMID LAKE:
Fishing at Pyramid Lake switches from a size game to a numbers game as fish move in to shallower water in anticipation for spawn. Try indicator fishing using midges in red, black or wine or balanced leeches in Black or Olive. Stripping streamers is another good option right now using Buggers, Beetles, or general purpose streamers in olive white or black.
RECOMMENDED GEAR:
9-11 Ft. 7-8 Wt. Rod with 1-3x tippet
Flys: Midges, Balanced Leeches, Buggers, Beetles, Streamers in Tui Chub or Cui Ui colors. Lures: Sierra Special Spoons, Marabou or Bucktail Jigs, Rapalas, Shallow Glass Lure Spinners, Flat Fish, Lymans Plugs