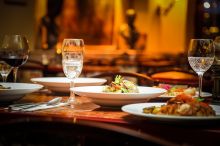 On the road to reopening in the wake of the COVID-19 pandemic, it can be hard to keep everything straight. Some of the guidelines change daily, while others remain the same for months at a time. The information overload is compounded by the fact that the Tahoe area falls under many jurisdictions of different counties and states and even areas that fall under federal management. Fortunately, the High Sierra counties of California and the State of Nevada are on a very similar timeline for recovery. Dining, shopping and recreation businesses are reopening at roughly the same rate, with the major exceptions being that hair and nail salons and barbershops were allowed to reopen in Nevada, and the Silver State's Stay-at-Home order went through May 15, while it is still in place in California, making for a longer-lasting impact on the travel lodging industry in the Golden State. Photo at left: Pixabay.
Restaurants
On the California side of the Tahoe region, the Phase 2 guidelines for reopening allow for eateries to begin dine-in business. Rather than a cap on occupancy of 50% like some other states, California calls for the maximum number of people in the restaurant to be based on how well social distancing and safety can be achieved. Pick-up and delivery options are still encouraged, and face coverings are required for employees who will come within six feet of customers. Sitting together is restricted to customers who are from the same household. Reservations are encouraged when possible, and those waiting for a table must do so away from the restaurant. Bars and lounges are not allowed to reopen under Phase 2. Nevada's Stage 1, which began on May 15 and is expected to run for about three weeks, has very similar requirements for restaurants. Six feet of social distancing is required, as are face coverings for employees, and anyone waiting to be seated must do so outside or away from the business.

Shops
California's Placer, Nevada and El Dorado counties have all advanced to the second half of Phase 2, which allows the retail stores not only to offer curbside pick-up but to open for in-store business. Social distancing and caution while shopping are still the guidelines by which to operate. Nevada currently also allows for in-store shopping, with mandated 6-foot distancing, face covers for employees and the sanitizing of such objects as carts and baskets after each use.
Things to Do
While many of the local Stay-at-Home rules have been relaxed, California's statewide Stay-at-Home order remains in effect. The result is that many of the places and activities that fall into the Things to Do category, such as the California State Parks and Recreation Areas, are currently open to local residents. The Nevada State Parks are open for day use only, and this holds true for many of the Tahoe backcountry areas. The USFS closure of the recreation areas in the South Shore corridor has been lifted, but not all of the sites have reopened, and the restroom facilities remain closed. The rule of thumb on both sides of the California-Nevada state line is that outdoor activities have reopened with some restrictions and modifications, while most indoor activities are still closed until a later time. Most golf courses, hiking trails, tennis courts and similar facilities are open for use. But bowling alleys, movie theaters, casinos, public pools, museums and other attractions are not yet reopened. Photo at right: Pixabay.

Hotels, Motels, Inns and Campgrounds
Lodging for hospitality and leisure remains prohibited in California's Phase 2 of reopening. On the Nevada side of Tahoe, the resorts are beginning to take room reservations. Each location is opening for stays according to their own individual schedules, so you'll have to contact the property to see when they will have rooms available, but for the most part you'll be looking at anywhere between the last weekend in May through the first week or so of June. The area's Forest Service campgrounds normally slated to open for the season in the second half of May are currently under temporary closure. Photo at left: Pixabay.
Vacation Rentals
Lodging for hospitality and leisure remains prohibited in California's Phase 2 of reopening. Many of the vacation rental services in the area are anticipating being able to resume business in the month of June and are offering future reservations based on their internal schedules. Many of these reservations are being made with particularly lenient cancellation policies since future travel plans can be so tentative at the moment. On the other side of the lake, vacation rentals are currently available at many of the Nevada properties in the Kingsbury Grade and Incline Village areas.